Regular price
$0.00
Sale price
$650.00
Unit price
per
Sale
Sold out
var product = { id: 6543505195107, title: "Dragon Gate", available: true, handle: "dragon-gate", description: "According to ancient lore, the Dragon Gate is located at the top of a waterfall that cascades down from the peak of a fabled mountain. Centuries ago, a school of koi fish decided to swim against the river's strong current, eventually gaining the strength needed to leap to the top of the waterfall. As a reward for their perseverance, the koi that completed the journey to Dragon Gate were transformed into powerful golden dragons. The scales you see in age-old depictions of dragons are believed to be the scales that once belonged to the humble koi fish.\nHandcrafted Sterling Silver", type: "Bracelets", tags: ["__tab1:product-tabs-bracelet-sizing","ALL","Bracelets","Clocks and Colours","Clocks and Colours EU","Discountable","Retail Ossington"], options_with_values: [{"name":"Size","position":1,"values":["7","7.5","8","8.5","9"]}], colors: null, featured_media: { alt: "Dragon Gate", src: "\/\/www.clocksandcolours.com\/cdn\/shop\/products\/DragonGate-ClocksAndColours-2.jpg?v=1616441129" }, url: "\/products\/dragon-gate", mf: { } }; var variants = []; var variant = { id: 39646396088419, available: true, options: ["7"], option1: "7", option2: null, option3: null, inventory_quantity: 15, price: 65000, compare_price: 0, media: { alt: null, src: null }, mf: { } }; product.currentVariant = variant; variants.push(variant); var variant = { id: 39273382903907, available: true, options: ["7.5"], option1: "7.5", option2: null, option3: null, inventory_quantity: 9, price: 65000, compare_price: 0, media: { alt: null, src: null }, mf: { } }; variants.push(variant); var variant = { id: 39273382936675, available: true, options: ["8"], option1: "8", option2: null, option3: null, inventory_quantity: 31, price: 65000, compare_price: 0, media: { alt: null, src: null }, mf: { } }; variants.push(variant); var variant = { id: 39273382969443, available: true, options: ["8.5"], option1: "8.5", option2: null, option3: null, inventory_quantity: 25, price: 65000, compare_price: 0, media: { alt: null, src: null }, mf: { } }; variants.push(variant); var variant = { id: 39273383002211, available: true, options: ["9"], option1: "9", option2: null, option3: null, inventory_quantity: 12, price: 65000, compare_price: 0, media: { alt: null, src: null }, mf: { } }; variants.push(variant); product.variants = variants;
According to ancient lore, the Dragon Gate is located at the top of a waterfall that cascades down from the peak of a fabled mountain. Centuries ago, a school of koi fish decided to swim against the river's strong current, eventually gaining the strength needed to leap to the top of the waterfall. As a reward for their perseverance, the koi that completed the journey to Dragon Gate were transformed into powerful golden dragons. The scales you see in age-old depictions of dragons are believed to be the scales that once belonged to the humble koi fish.
Handcrafted Sterling Silver
Bracelet Sizing
BRACELET SIZING GUIDE
Do you already have a bracelet that fits your wrist?
Yes - Measure Bracelet
No - Measure Wrist
Lay your bracelet out straight on a flat surface.
Use a ruler to measure the length of the bracelet (in inches). Include the length of the clasp, but do not include any portion of the clasp that is "internal," such as pins or latches that insert into the clasp (see red section on the above illustration).
Your bracelet size will match the measurement in inches (ie 7.5" equals Size 7.5).
Round up if you are in between sizes.
Wrap a piece of string around your wrist.
Ensure you have enough slack that the bracelet can move freely around your wrist.
Pinch the spot where the bracelet overlaps itself between two fingers and remove the string from your wrist.
Continue to pinch the string in this spot and lay it on a flat surface. With your other hand mark this spot on the string using a pen.
In inches, measure the end of the string to the marking you just made.
Your size is the measurement in inches (if you measured 8 inches, you should order a size 8).
If you are between sizes it is always best to size up rather than down.
View full details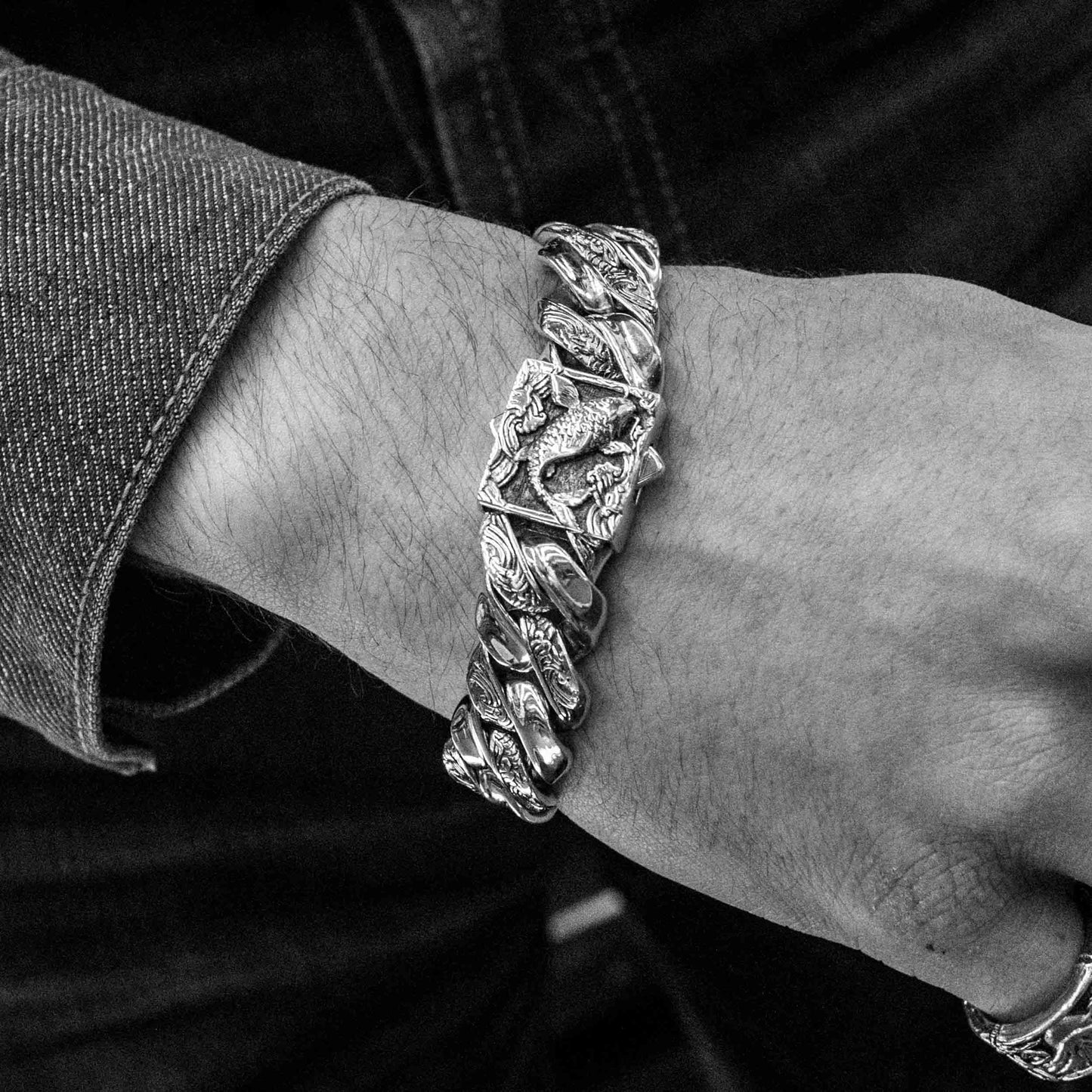 Compliments every time I wear it
One of my favorite designs. Perfect weight, really detailed. Worth it.
What can I say...
Perfect bracelet. Perfect fit. Perfect service.
100% buying another piece in the future!
Dragon Gate
Great bracelet, I ordered the wrong size and the customer service was excellent too. I like the weight of it.
Dragon Gate
Dragon Gate is Awesome it's even better in person. Great craftsmanship the details are amazing! This is one of 3 pieces I currently have.
Dragon Gate
This thing is solid! Beautifully crafted and has a nice weight to it. It pairs nicely with the matching ring. One of my new favorite pieces!
popular this week
Regular price

$0.00

Sale price

$560.00

Unit price

per

Regular price

$0.00

Sale price

$175.00

Unit price

per

Regular price

Sale price

$90.00

Unit price

per

Regular price

$0.00

Sale price

$59.00

Unit price

per

Regular price

$0.00

Sale price

$90.00

Unit price

per

Regular price

$0.00

Sale price

$95.00

Unit price

per