Regular price
$185.00
Sale price
$130.00
Unit price
per
Sale
Sold out
var product = { id: 6735569518691, title: "Foundation x Antique Black", available: true, handle: "foundation-x-antique-black", description: "For as long as man has walked on this planet, we have sought to understand the foundation of the giant rock we call home. From molten magma, ancient fossils, precious metals and shimmering stones, the planet's tumultuous history becomes more apparent the deeper we go. With four unique finishes inspired by the earth's surface and everything that lies beneath it, the Foundation signet ring pays homage to the beauty below our feet.\n\nHandcrafted Sterling Silver with an antique black finish featuring a Black Onyx Stone. ", type: "Rings", tags: ["__tab1:product-tabs-ring-sizing","ALL","Clocks and Colours","Clocks and Colours EU","Retail Ossington","Rings","Sale"], options_with_values: [{"name":"Size","position":1,"values":["6","7","8","9","10","11","12","13","14"]}], colors: null, featured_media: { alt: "Foundation x Antique Black", src: "\/\/www.clocksandcolours.com\/cdn\/shop\/products\/FoundationAntiqueBlack-ClocksAndColours-1.jpg?v=1655917484" }, url: "\/products\/foundation-x-antique-black", mf: { } }; var variants = []; var variant = { id: 39821165101155, available: true, options: ["6"], option1: "6", option2: null, option3: null, inventory_quantity: 11, price: 13000, compare_price: 18500, media: { alt: "Foundation x Antique Black", src: "\/\/www.clocksandcolours.com\/cdn\/shop\/products\/FoundationAntiqueBlack-ClocksAndColours-1.jpg?v=1655917484" }, mf: { } }; product.currentVariant = variant; variants.push(variant); var variant = { id: 39821165133923, available: true, options: ["7"], option1: "7", option2: null, option3: null, inventory_quantity: 26, price: 13000, compare_price: 18500, media: { alt: "Foundation x Antique Black", src: "\/\/www.clocksandcolours.com\/cdn\/shop\/products\/FoundationAntiqueBlack-ClocksAndColours-1.jpg?v=1655917484" }, mf: { } }; variants.push(variant); var variant = { id: 39821165166691, available: true, options: ["8"], option1: "8", option2: null, option3: null, inventory_quantity: 35, price: 13000, compare_price: 18500, media: { alt: "Foundation x Antique Black", src: "\/\/www.clocksandcolours.com\/cdn\/shop\/products\/FoundationAntiqueBlack-ClocksAndColours-1.jpg?v=1655917484" }, mf: { } }; variants.push(variant); var variant = { id: 39821165199459, available: true, options: ["9"], option1: "9", option2: null, option3: null, inventory_quantity: 85, price: 13000, compare_price: 18500, media: { alt: "Foundation x Antique Black", src: "\/\/www.clocksandcolours.com\/cdn\/shop\/products\/FoundationAntiqueBlack-ClocksAndColours-1.jpg?v=1655917484" }, mf: { } }; variants.push(variant); var variant = { id: 39821165232227, available: true, options: ["10"], option1: "10", option2: null, option3: null, inventory_quantity: 62, price: 13000, compare_price: 18500, media: { alt: "Foundation x Antique Black", src: "\/\/www.clocksandcolours.com\/cdn\/shop\/products\/FoundationAntiqueBlack-ClocksAndColours-1.jpg?v=1655917484" }, mf: { } }; variants.push(variant); var variant = { id: 39821165264995, available: true, options: ["11"], option1: "11", option2: null, option3: null, inventory_quantity: 52, price: 13000, compare_price: 18500, media: { alt: "Foundation x Antique Black", src: "\/\/www.clocksandcolours.com\/cdn\/shop\/products\/FoundationAntiqueBlack-ClocksAndColours-1.jpg?v=1655917484" }, mf: { } }; variants.push(variant); var variant = { id: 39821165297763, available: true, options: ["12"], option1: "12", option2: null, option3: null, inventory_quantity: 27, price: 13000, compare_price: 18500, media: { alt: "Foundation x Antique Black", src: "\/\/www.clocksandcolours.com\/cdn\/shop\/products\/FoundationAntiqueBlack-ClocksAndColours-1.jpg?v=1655917484" }, mf: { } }; variants.push(variant); var variant = { id: 39821165330531, available: true, options: ["13"], option1: "13", option2: null, option3: null, inventory_quantity: 12, price: 13000, compare_price: 18500, media: { alt: "Foundation x Antique Black", src: "\/\/www.clocksandcolours.com\/cdn\/shop\/products\/FoundationAntiqueBlack-ClocksAndColours-1.jpg?v=1655917484" }, mf: { } }; variants.push(variant); var variant = { id: 39821165363299, available: true, options: ["14"], option1: "14", option2: null, option3: null, inventory_quantity: 29, price: 13000, compare_price: 18500, media: { alt: "Foundation x Antique Black", src: "\/\/www.clocksandcolours.com\/cdn\/shop\/products\/FoundationAntiqueBlack-ClocksAndColours-1.jpg?v=1655917484" }, mf: { } }; variants.push(variant); product.variants = variants;
For as long as man has walked on this planet, we have sought to understand the foundation of the giant rock we call home. From molten magma, ancient fossils, precious metals and shimmering stones, the planet's tumultuous history becomes more apparent the deeper we go. With four unique finishes inspired by the earth's surface and everything that lies beneath it, the Foundation signet ring pays homage to the beauty below our feet.

Handcrafted Sterling Silver with an antique black finish featuring a Black Onyx Stone.
All of our jewelry products are covered by a Lifetime Warranty
Clearance items are final sale - No exchanges or refunds.
Ring Sizing
RING SIZING GUIDE
Do you already have a ring that fits the finger you're shopping for?
Yes - Measure Ring
No - Measure Finger
Use a ruler to measure the inner diameter of a ring that fits your desired finger (in mm).
Compare the measurement to the below chart.
Round up if you are in between two sizes.
| Inner Diameter (mm) | Ring Size (US) |
| --- | --- |
| 13.2 | 2 |
| 14.1 | 3 |
| 14.9 | 4 |
| 15.7 | 5 |
| 16.5 | 6 |
| 17.3 | 7 |
| 18.1 | 8 |
| 19.0 | 9 |
| 19.8 | 10 |
| 20.6 | 11 |
| 21.4 | 12 |
| 22.2 | 13 |
Option 1: Do not have a printer 
Cut a thin strip of paper 10-12cm long.
Wrap the strip of paper tightly around your desired finger.
Using a pen or pencil, mark the point where the paper overlaps itself.
Lay the strip of paper on a flat surface and use a ruler to measure the distance from the end of the strip to the marking you made in millimeters. This will give you the circumference of your finger.
Using the below chart, convert your measurement into standard US sizing.
If you are in between sizes, it's best to round up rather than down.
| Circumference (mm) | Ring Size (US) |
| --- | --- |
| 41.5 | 2 |
| 44.1 | 3 |
| 46.9 | 4 |
| 49.3 | 5 |
| 51.9 | 6 |
| 54.5 | 7 |
| 57.2 | 8 |
| 59.3 | 9 |
| 62.3 | 10 |
| 65.0 | 11 |
| 67.5 | 12 |
| 70.1 | 13 |
Option 2: Do have a printer
Print our ring sizer PDF (here) on standard 8.5" x 11" paper at 100% scale (ensure scaling is turned off in your print dialog box).
Measure the grey section — it should be 3.5 inches from end to end.
Cut out the sizing tool (the top section that looks like a ruler), and wrap the piece of paper tightly around your desired finger. The number that aligns closest with the 'Read Size Here' line will be your size.
Alternatively, if you have a ring that fits you well (or a ring you know fits the person you are gifting to), place the ring on top of each sizing circle until you find the matching size. The matching circle should fit perfectly inside the ring.
If you are in between sizes, it's best to round up rather than down.
View full details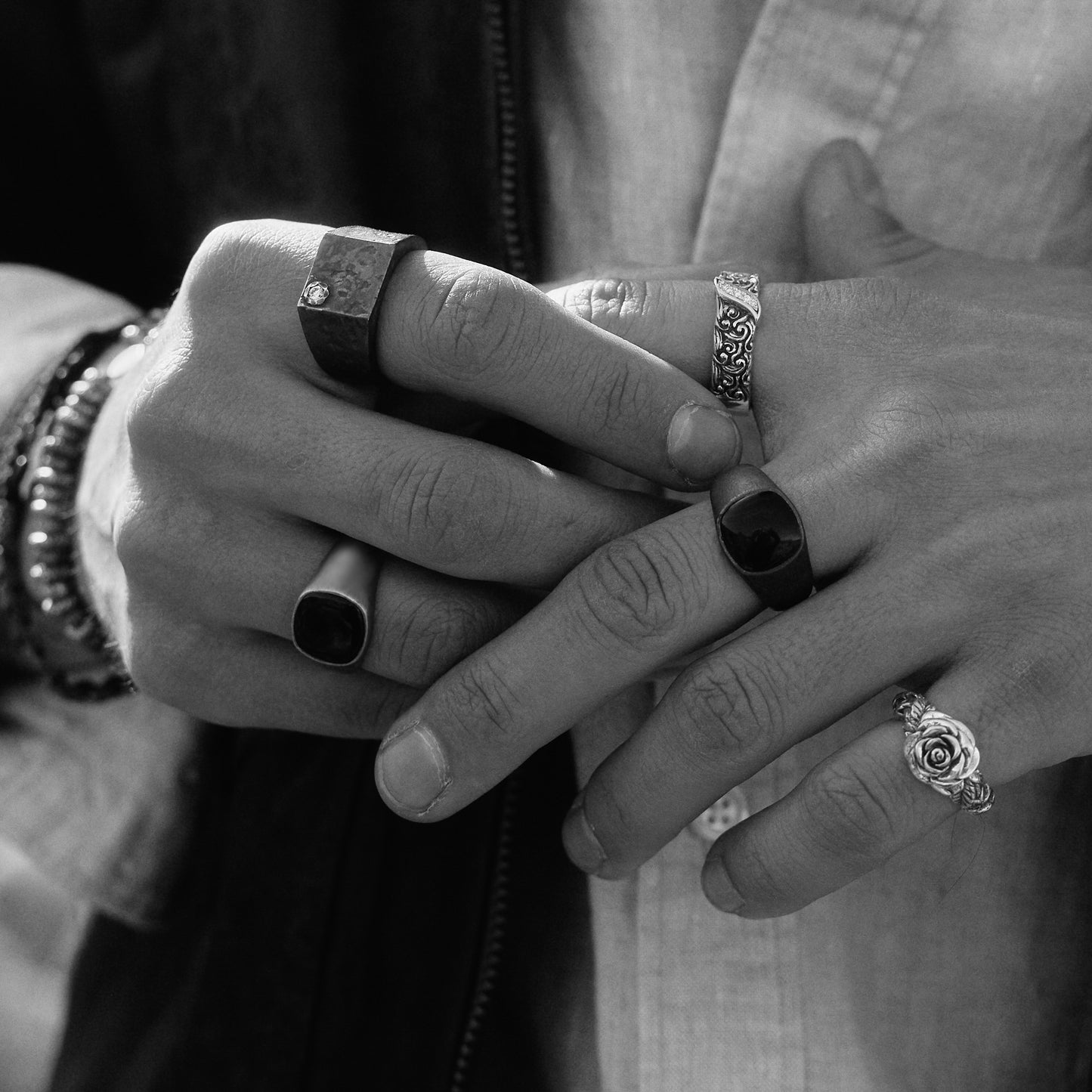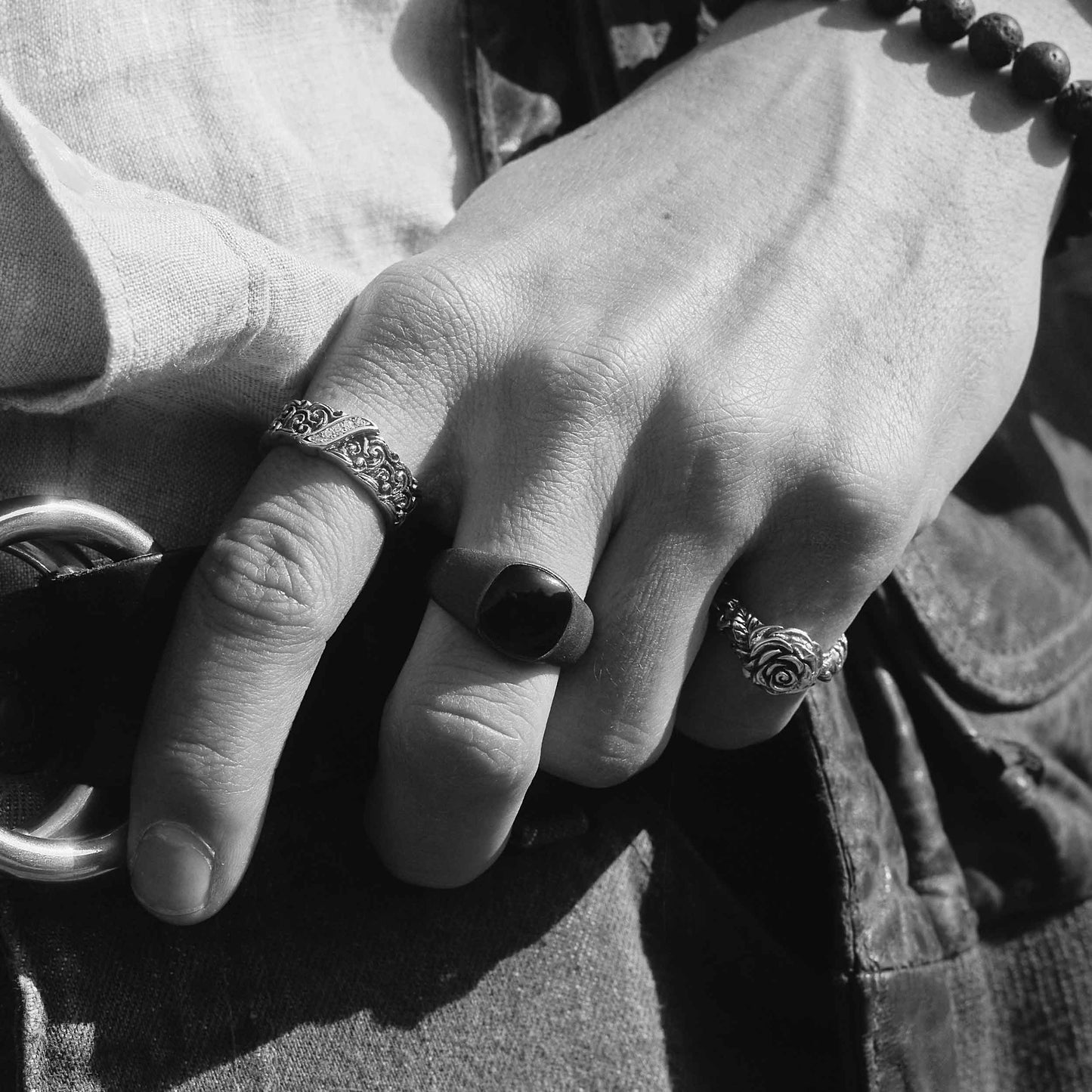 Simple Beautiful Ring!
Sometimes less is more, and this piece is the perfect example.
Just what I needed
Very light ring that can be worn everyday or with the other rings I have gotten from C&C. I got it as a pinky ring and it looks great, nice and subdued -- and doesn't stick out like a gold signet ring would -- which is exactly what I wanted.
One Ring for All Occasions
I wear a lot of this brand but sometimes just the one is all you need.
Daily driver and love that it goes with everything!
Dark Minimalism
This elegant ring is best described as Modern, Minimal, Masculine, and Classic. The simple design is a good complement C&C's more elaborately designed rings. It is perfect for more formal occasions, and a dark personal aesthetic. The ring is well-made, fits comfortably, and looks great. The stone is firmly fitted and very attractive. I can't say how long the blacking will last but my ring shows no signs of wear. It is natural for silver to darken and there are methods to restore the black color. I am sure C&C can offer some suggestions if necessary. For me the ring is perfect and the matt black texture is lasting.
popular this week
Regular price

$0.00

Sale price

$560.00

Unit price

per

Regular price

$0.00

Sale price

$175.00

Unit price

per

Regular price

Sale price

$90.00

Unit price

per

Regular price

$0.00

Sale price

$59.00

Unit price

per

Regular price

$0.00

Sale price

$90.00

Unit price

per

Regular price

$0.00

Sale price

$95.00

Unit price

per