Regular price
$59.00
Sale price
$41.30
Unit price
per
Sale
Sold out
var product = { id: 6661592252515, title: "Heavy Metals Long Sleeve x White", available: true, handle: "handcrafted-heavy-metals-long-sleeve-x-white", description: "The Heavy Metals longsleeve features classic hand-lettering that outlines the identity of Clocks + Colours. Wear it loud and wear it proud. Each screenprint is hand-pulled in Toronto, Canada. \n100% Cotton. Fits true to size.\n", type: "Tees", tags: ["ALL","Apparel","Clocks and Colours","Clocks and Colours EU","Clothing","LongSleeve","Retail Ossington","Sale"], options_with_values: [{"name":"Size","position":1,"values":["S","M","L","XL","XXL"]}], colors: null, featured_media: { alt: "Heavy Metals Long Sleeve x White", src: "\/\/www.clocksandcolours.com\/cdn\/shop\/products\/HeavyMetalsLongSleeve-ClocksandColours-White-02.jpg?v=1636040457" }, url: "\/products\/handcrafted-heavy-metals-long-sleeve-x-white", mf: { } }; var variants = []; var variant = { id: 39636976566371, available: false, options: ["S"], option1: "S", option2: null, option3: null, inventory_quantity: 0, price: 4130, compare_price: 5900, media: { alt: "Heavy Metals Long Sleeve x White", src: "\/\/www.clocksandcolours.com\/cdn\/shop\/products\/HeavyMetalsLongSleeve-ClocksandColours-White-02.jpg?v=1636040457" }, mf: { } }; variants.push(variant); var variant = { id: 39636976599139, available: true, options: ["M"], option1: "M", option2: null, option3: null, inventory_quantity: 15, price: 4130, compare_price: 5900, media: { alt: "Heavy Metals Long Sleeve x White", src: "\/\/www.clocksandcolours.com\/cdn\/shop\/products\/HeavyMetalsLongSleeve-ClocksandColours-White-02.jpg?v=1636040457" }, mf: { } }; product.currentVariant = variant; variants.push(variant); var variant = { id: 39636976631907, available: false, options: ["L"], option1: "L", option2: null, option3: null, inventory_quantity: 0, price: 4130, compare_price: 5900, media: { alt: "Heavy Metals Long Sleeve x White", src: "\/\/www.clocksandcolours.com\/cdn\/shop\/products\/HeavyMetalsLongSleeve-ClocksandColours-White-02.jpg?v=1636040457" }, mf: { } }; variants.push(variant); var variant = { id: 39636976664675, available: false, options: ["XL"], option1: "XL", option2: null, option3: null, inventory_quantity: 0, price: 4130, compare_price: 5900, media: { alt: "Heavy Metals Long Sleeve x White", src: "\/\/www.clocksandcolours.com\/cdn\/shop\/products\/HeavyMetalsLongSleeve-ClocksandColours-White-02.jpg?v=1636040457" }, mf: { } }; variants.push(variant); var variant = { id: 39636976697443, available: true, options: ["XXL"], option1: "XXL", option2: null, option3: null, inventory_quantity: 13, price: 4130, compare_price: 5900, media: { alt: "Heavy Metals Long Sleeve x White", src: "\/\/www.clocksandcolours.com\/cdn\/shop\/products\/HeavyMetalsLongSleeve-ClocksandColours-White-02.jpg?v=1636040457" }, mf: { } }; variants.push(variant); product.variants = variants;
The Heavy Metals longsleeve features classic hand-lettering that outlines the identity of Clocks + Colours. Wear it loud and wear it proud. Each screenprint is hand-pulled in Toronto, Canada.

100% Cotton. Fits true to size.

All of our apparel products are covered by a Two Year Warranty
Clearance items are final sale - No exchanges or refunds.
View full details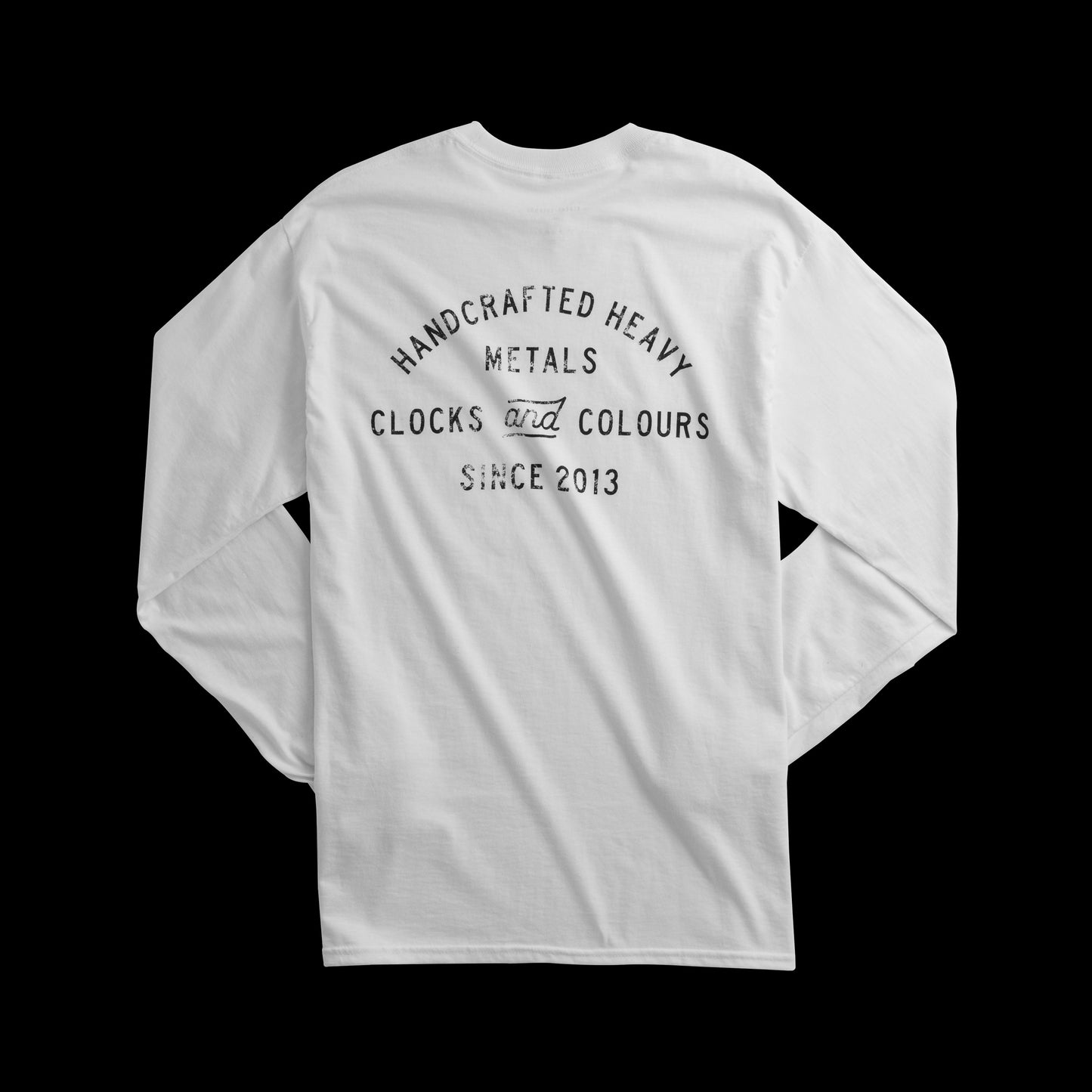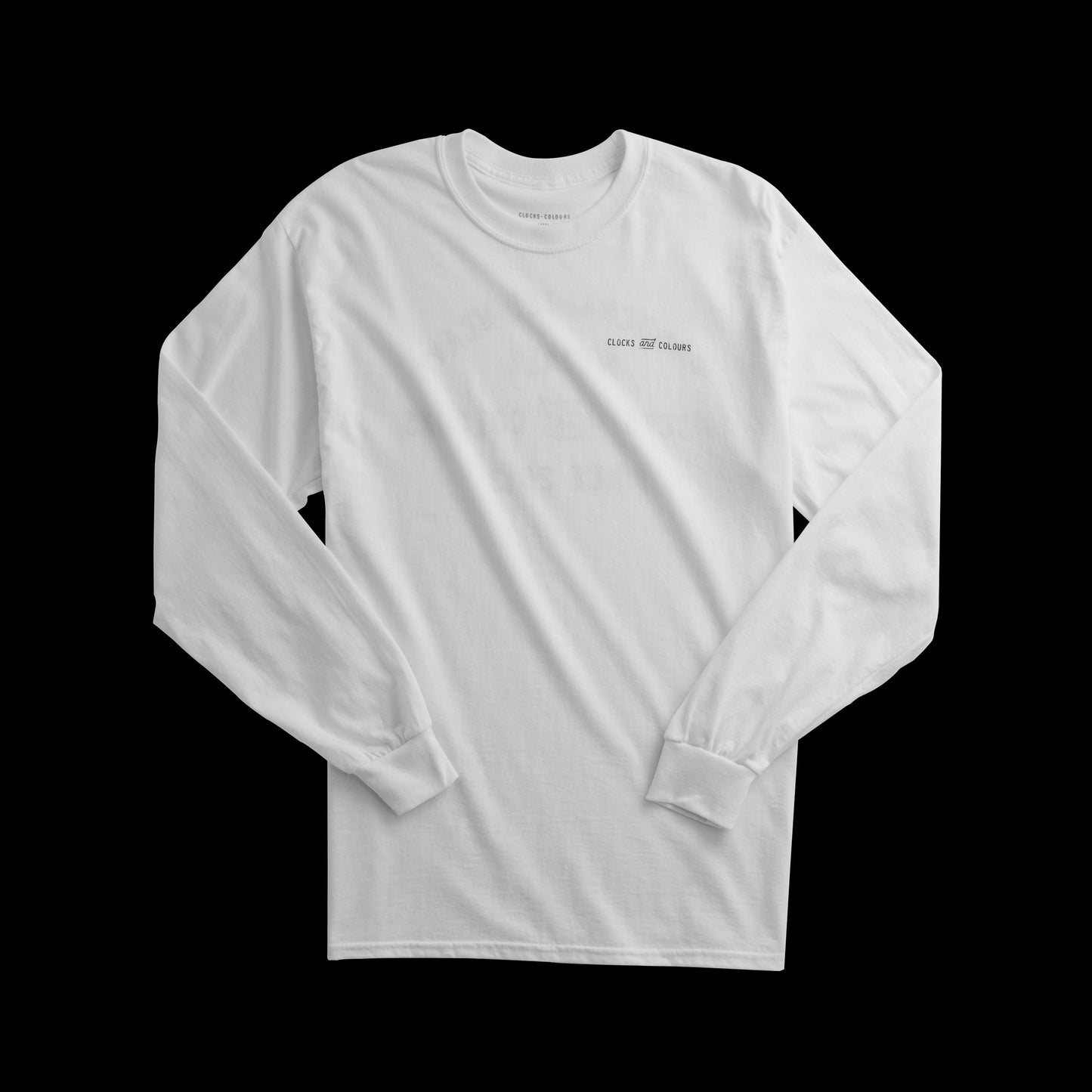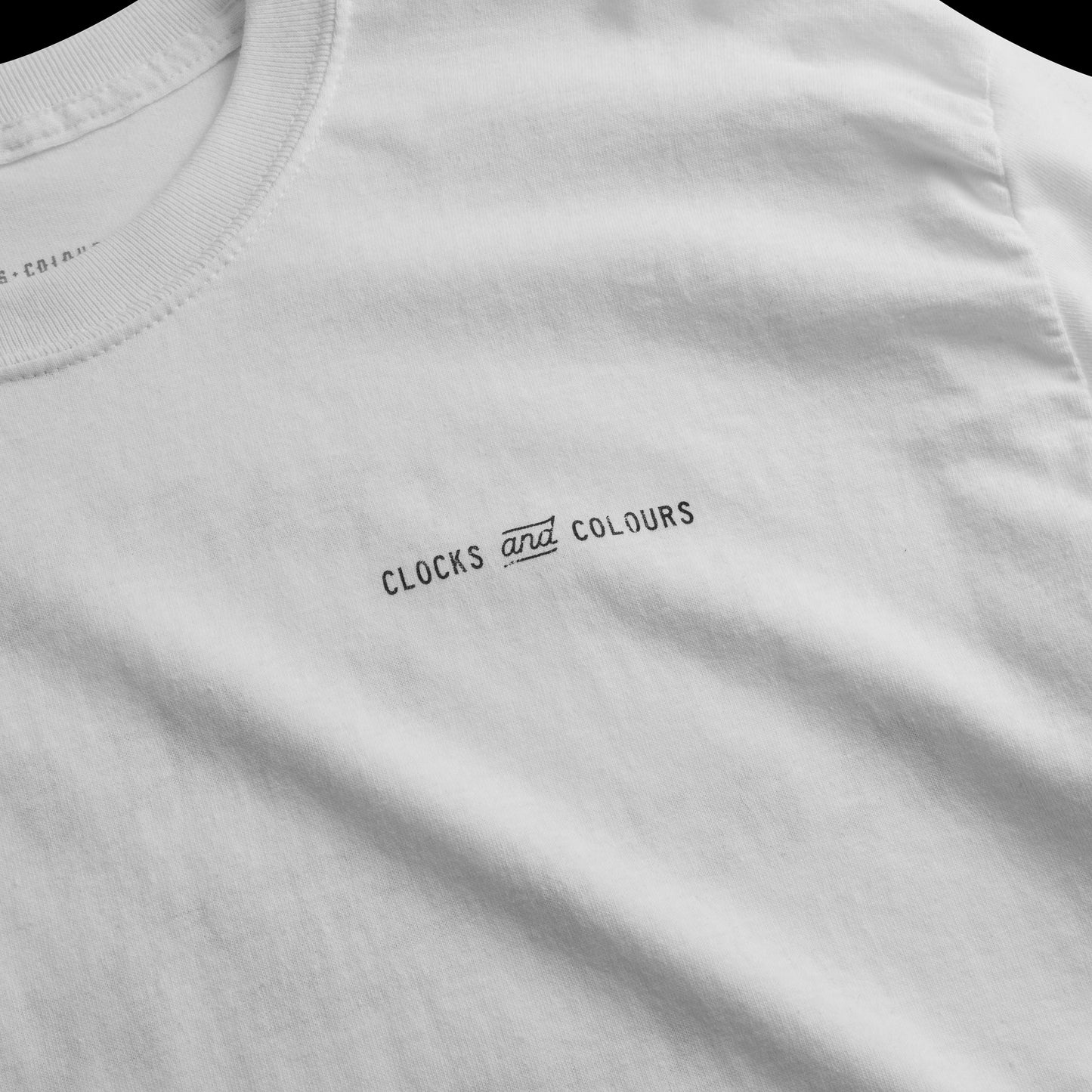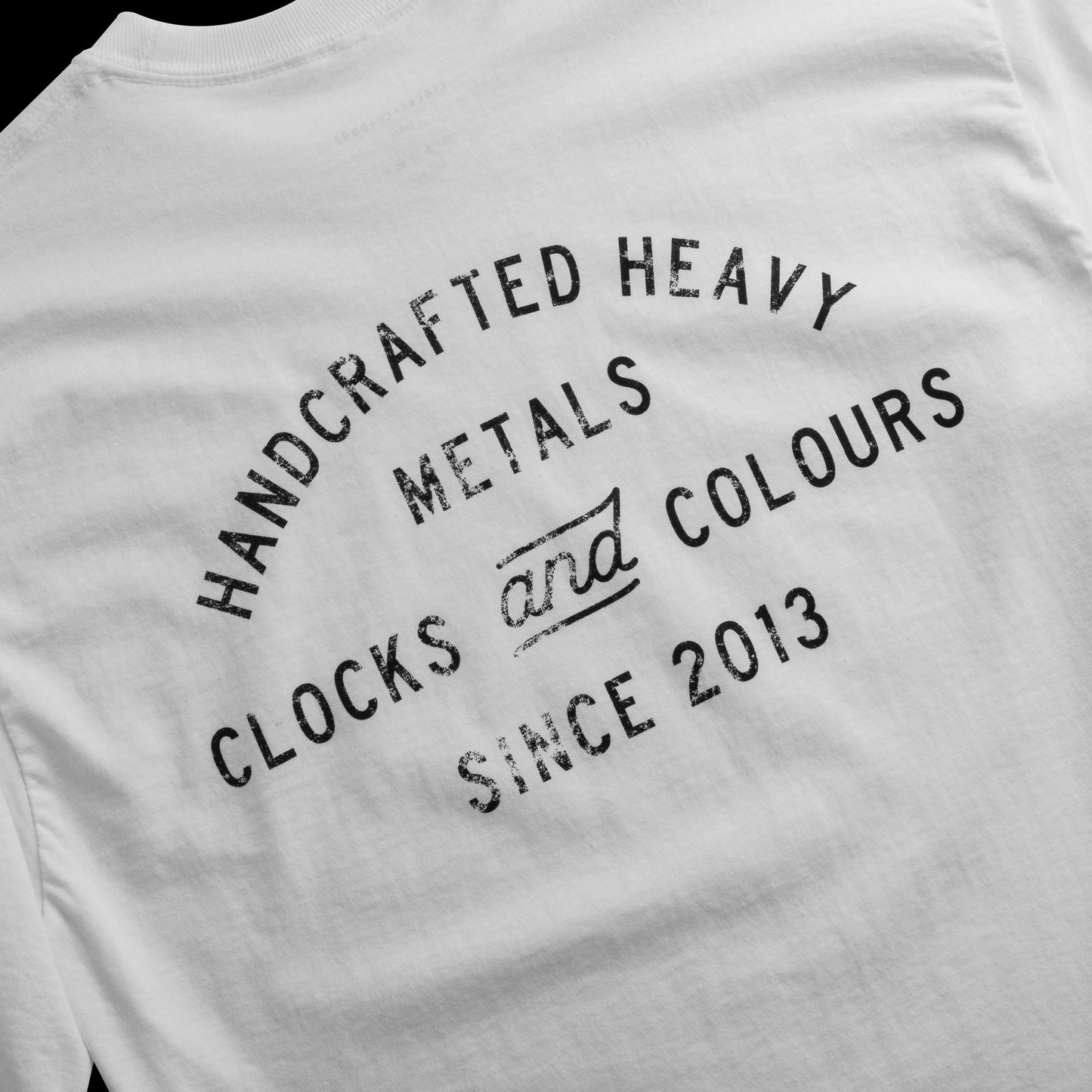 Great fit
Clean style and fits perfectly
Classic Go To
5'10" 135lbs
A perfect staple, with a subtle and classic print to show off the C&C brand.
Hope C&C looks into a shirt manufacturers with a longer torso and a little softer.
I have the same one in Black because I knew I'd love it.
This is now my Classic go to long-sleeves!
Looks great
Happy with the quality as usual from C+C
Really nice
Love how well the size fits to description, its very nice to ride with as well because its not heavy.
Excelente
Everything is perfect, fit, fabric, texture, everything. 100% recommended
popular this week
Regular price

$0.00

Sale price

$560.00

Unit price

per

Regular price

$0.00

Sale price

$175.00

Unit price

per

Regular price

Sale price

$90.00

Unit price

per

Regular price

$0.00

Sale price

$59.00

Unit price

per

Regular price

$0.00

Sale price

$90.00

Unit price

per

Regular price

$0.00

Sale price

$95.00

Unit price

per