Regular price
$235.00
Sale price
$165.00
Unit price
per
Sale
Sold out
var product = { id: 6699166728291, title: "Interstate x Polished Black", available: true, handle: "interstate-x-stainless-steel-polished-black", description: "\nThe Interstate draws inspiration from two classic frame styles popularized during the 1970s. The flat top is reminiscent of the 'Driver' frames adopted by the freewheeling road-warriors of the era, while the round lenses and metal detailing pay homage to the iconic 'Explorer' frames worn by early outdoor thrill-seekers. Finished with custom-tooled stainless steel temples and north star rivet detailing on the frame lugs, the resulting shades are just as comfortable on the open road as they are on a hazardous mountain trail.\nGerman-engineered three-barrel hinges. Biodegradable acetate construction. 'Green Nylon' lenses. 100% recycled stainless steel temples and detailing. Branded hard-case included.\nPolished black acetate frame with deep purple tinted lenses and polished stainless steel details.\nPrescription LensesNow available with custom polarized prescription lenses! Choose between premium 1.59 index and 1.67 high index lenses. 1.67 index lenses are thinner with greater visual clarity. Lens colour available in grey, bronze, or green.\n\n\n\nPlace your prescription eyewear purchase through the standard checkout procedure. Once ordered you will receive an order confirmation that includes a link to a survey to fill out your prescription. A customer service agent will reach out to you to ensure your custom sunglasses are built and shipped.\n\n\n\nNOTE: Prescriptions between -4.25 to -10.00 spherical (SPH) and -2.25 to -6.00 cylindrical (CYL) MUST order 1.67 high index lenses as these prescriptions are not possible with a lower index lens. \n \nEye Width: 55mmBridge Width: 19mmTemple\/Arm Length: 145mm", type: "Sunglasses", tags: ["ALL","Clocks and Colours","Clocks and Colours EU","Eyewear","Retail Ossington","Sale","Shades","Sunglasses"], options_with_values: [{"name":"Lens","position":1,"values":["Standard","Prescription 1.59 Index","Prescription 1.67 Index"]}], colors: null, featured_media: { alt: "Interstate x Polished Black", src: "\/\/www.clocksandcolours.com\/cdn\/shop\/products\/Interstate-ClockAndColours-S-1.jpg?v=1648740068" }, url: "\/products\/interstate-x-stainless-steel-polished-black", mf: { } }; var variants = []; var variant = { id: 39737700155491, available: true, options: ["Standard"], option1: "Standard", option2: null, option3: null, inventory_quantity: 90, price: 16500, compare_price: 23500, media: { alt: "Interstate x Polished Black", src: "\/\/www.clocksandcolours.com\/cdn\/shop\/products\/Interstate-ClockAndColours-S-1.jpg?v=1648740068" }, mf: { } }; product.currentVariant = variant; variants.push(variant); var variant = { id: 40352496582755, available: true, options: ["Prescription 1.59 Index"], option1: "Prescription 1.59 Index", option2: null, option3: null, inventory_quantity: 2, price: 26500, compare_price: 33500, media: { alt: null, src: null }, mf: { } }; variants.push(variant); var variant = { id: 40352496713827, available: true, options: ["Prescription 1.67 Index"], option1: "Prescription 1.67 Index", option2: null, option3: null, inventory_quantity: 2, price: 36500, compare_price: 43500, media: { alt: null, src: null }, mf: { } }; variants.push(variant); product.variants = variants;
The Interstate draws inspiration from two classic frame styles popularized during the 1970s. The flat top is reminiscent of the 'Driver' frames adopted by the freewheeling road-warriors of the era, while the round lenses and metal detailing pay homage to the iconic 'Explorer' frames worn by early outdoor thrill-seekers. Finished with custom-tooled stainless steel temples and north star rivet detailing on the frame lugs, the resulting shades are just as comfortable on the open road as they are on a hazardous mountain trail.
German-engineered three-barrel hinges. Biodegradable acetate construction. 'Green Nylon' lenses. 100% recycled stainless steel temples and detailing. Branded hard-case included.
Polished black acetate frame with deep purple tinted lenses and polished stainless steel details.
Prescription Lenses
Now available with custom polarized prescription lenses! Choose between premium 1.59 index and 1.67 high index lenses. 1.67 index lenses are thinner with greater visual clarity. Lens colour available in grey, bronze, or green.
Place your prescription eyewear purchase through the standard checkout procedure. Once ordered you will receive an order confirmation that includes a link to a survey to fill out your prescription. A customer service agent will reach out to you to ensure your custom sunglasses are built and shipped.
NOTE: Prescriptions between -4.25 to -10.00 spherical (SPH) and -2.25 to -6.00 cylindrical (CYL) MUST order 1.67 high index lenses as these prescriptions are not possible with a lower index lens.
Eye Width: 55mm
Bridge Width: 19mm
Temple/Arm Length: 145mm
All of our Shades are covered by a Two Year Warranty
Clearance items are final sale - No exchanges or refunds.
View full details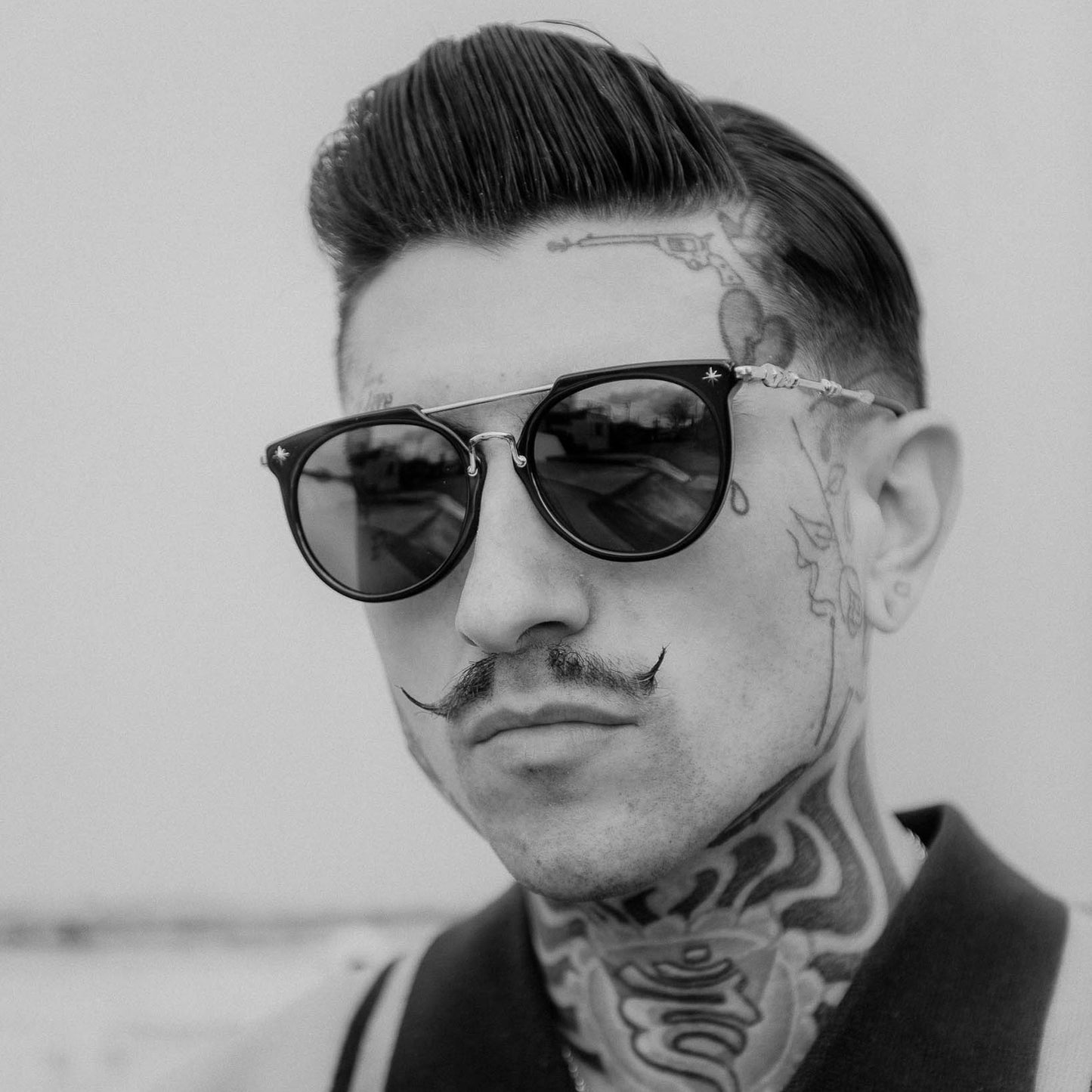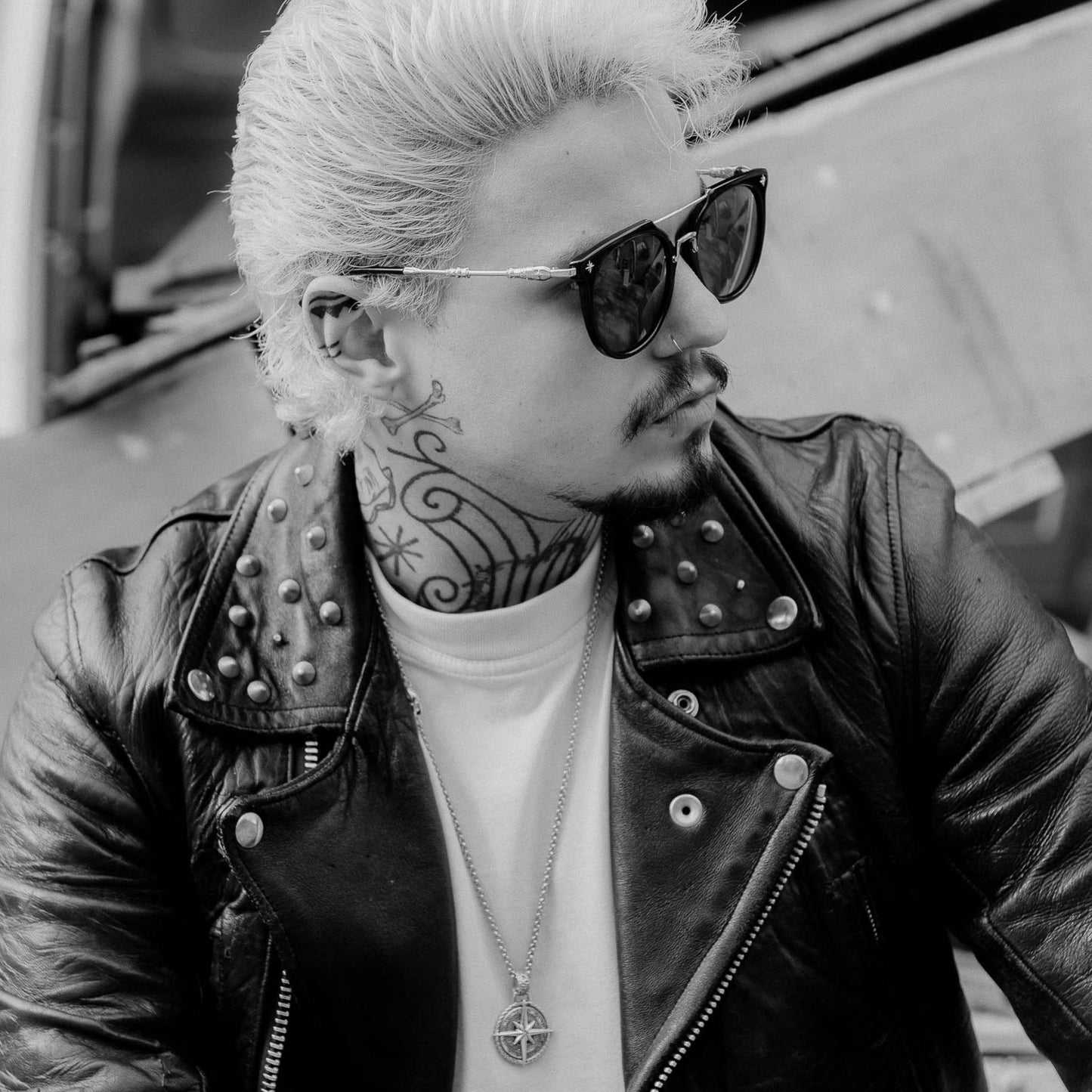 Decent Quality
Decent quality cant really complain.
Fastatic Eyewear!
I was unsure about ordering eyewear but as a huge fan of C&C jewelry i'm not sure why I hesitated. The quality of these shades is fantastic. Amazing attention to detail and superb craftsmanship. I have ordered a few more C&C shades since purchasing these ones and was not disappointed with them either.
Great quality
These and the Getaway Black are probably my favorite shades from C&C.
Fav glasses ever
I really love the design and the material of this glasses
Fantastic
While it wasn't necessarily the stainless steel look I thought it would be. They were still amazing and fit great. I have a big head and they were plenty big to fit my face. This is my 4th purchase from c+c and y'all are 4/4.
popular this week
Regular price

$0.00

Sale price

$560.00

Unit price

per

Regular price

$0.00

Sale price

$175.00

Unit price

per

Regular price

Sale price

$90.00

Unit price

per

Regular price

$0.00

Sale price

$59.00

Unit price

per

Regular price

$0.00

Sale price

$90.00

Unit price

per

Regular price

$0.00

Sale price

$95.00

Unit price

per