Regular price
$250.00
Sale price
$175.00
Unit price
per
Sale
Sold out
var product = { id: 6771897663587, title: "Rodeo x Black", available: true, handle: "rodeo-x-black", description: "The Rodeo is a handmade belt constructed from premium full-grain cowhide leather imported from Spain. The intricate winged buckle takes inspiration from motorcycle culture with a dash of farm-raised Western motifs. So whether you wear it on a lazy afternoon cruise or a hectic ride through the bullpen, this belt has you covered.3mm thick full grain cowhide leather with stainless steel details.\nChoose your size based on US pant size. \nNote: size 28-30 will be available in 1-2 weeks. Sign up to be notified! \nBelts may have small strands on the edges given the handmade nature of the cutting process. These will wear off with time and normal wear. Each leather hide will have unique blemishes and markings that may have become more visible during the tanning process. Each belt is unique. ", type: "Belts", tags: ["ALL","Apparel","Belts","Clocks and Colours","Clocks and Colours EU","Retail Ossington","Sale"], options_with_values: [{"name":"Size","position":1,"values":["28-30","31-33","34-36","37-39","40-42"]}], colors: null, featured_media: { alt: "Rodeo x Black", src: "\/\/www.clocksandcolours.com\/cdn\/shop\/products\/Rodeo_ClocksAndColours-Black-1.jpg?v=1659708119" }, url: "\/products\/rodeo-x-black", mf: { } }; var variants = []; var variant = { id: 39902464999523, available: true, options: ["28-30"], option1: "28-30", option2: null, option3: null, inventory_quantity: 23, price: 17500, compare_price: 25000, media: { alt: "Rodeo x Black", src: "\/\/www.clocksandcolours.com\/cdn\/shop\/products\/Rodeo_ClocksAndColours-Black-1.jpg?v=1659708119" }, mf: { } }; product.currentVariant = variant; variants.push(variant); var variant = { id: 39902465032291, available: true, options: ["31-33"], option1: "31-33", option2: null, option3: null, inventory_quantity: 24, price: 17500, compare_price: 25000, media: { alt: "Rodeo x Black", src: "\/\/www.clocksandcolours.com\/cdn\/shop\/products\/Rodeo_ClocksAndColours-Black-1.jpg?v=1659708119" }, mf: { } }; variants.push(variant); var variant = { id: 39902465065059, available: true, options: ["34-36"], option1: "34-36", option2: null, option3: null, inventory_quantity: 22, price: 17500, compare_price: 25000, media: { alt: "Rodeo x Black", src: "\/\/www.clocksandcolours.com\/cdn\/shop\/products\/Rodeo_ClocksAndColours-Black-1.jpg?v=1659708119" }, mf: { } }; variants.push(variant); var variant = { id: 39902464966755, available: true, options: ["37-39"], option1: "37-39", option2: null, option3: null, inventory_quantity: 12, price: 17500, compare_price: 25000, media: { alt: "Rodeo x Black", src: "\/\/www.clocksandcolours.com\/cdn\/shop\/products\/Rodeo_ClocksAndColours-Black-1.jpg?v=1659708119" }, mf: { } }; variants.push(variant); var variant = { id: 39969165148259, available: true, options: ["40-42"], option1: "40-42", option2: null, option3: null, inventory_quantity: 9, price: 17500, compare_price: 25000, media: { alt: "Rodeo x Black", src: "\/\/www.clocksandcolours.com\/cdn\/shop\/products\/Rodeo_ClocksAndColours-Black-1.jpg?v=1659708119" }, mf: { } }; variants.push(variant); product.variants = variants;
The Rodeo is a handmade belt constructed from premium full-grain cowhide leather imported from Spain. The intricate winged buckle takes inspiration from motorcycle culture with a dash of farm-raised Western motifs. So whether you wear it on a lazy afternoon cruise or a hectic ride through the bullpen, this belt has you covered.

3mm thick full grain cowhide leather with stainless steel details.
Choose your size based on US pant size. 
Note: size 28-30 will be available in 1-2 weeks. Sign up to be notified! 
Belts may have small strands on the edges given the handmade nature of the cutting process. These will wear off with time and normal wear. Each leather hide will have unique blemishes and markings that may have become more visible during the tanning process. Each belt is unique. 
All of our apparel products are covered by a Two Year Warranty
Clearance items are final sale - No exchanges or refunds.
View full details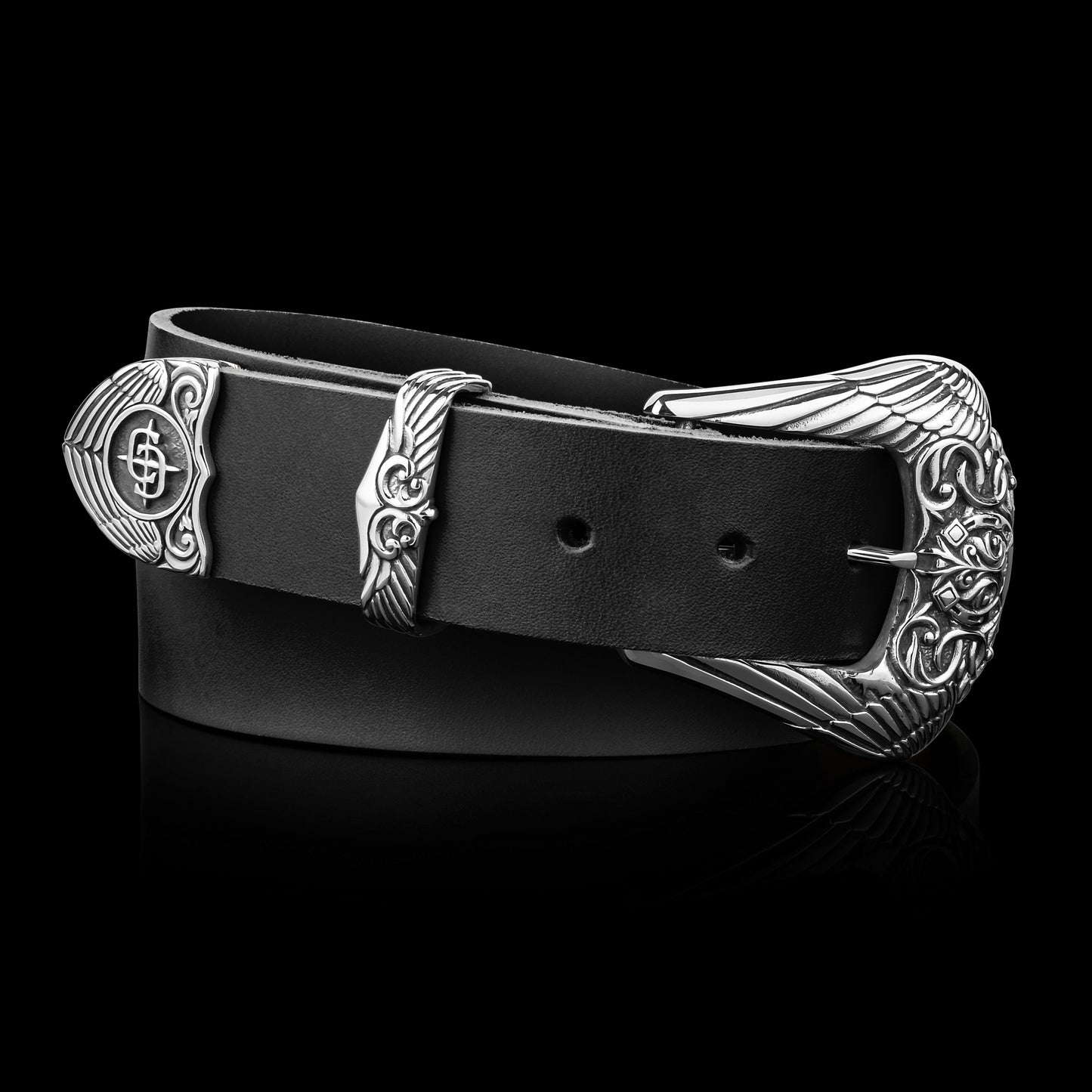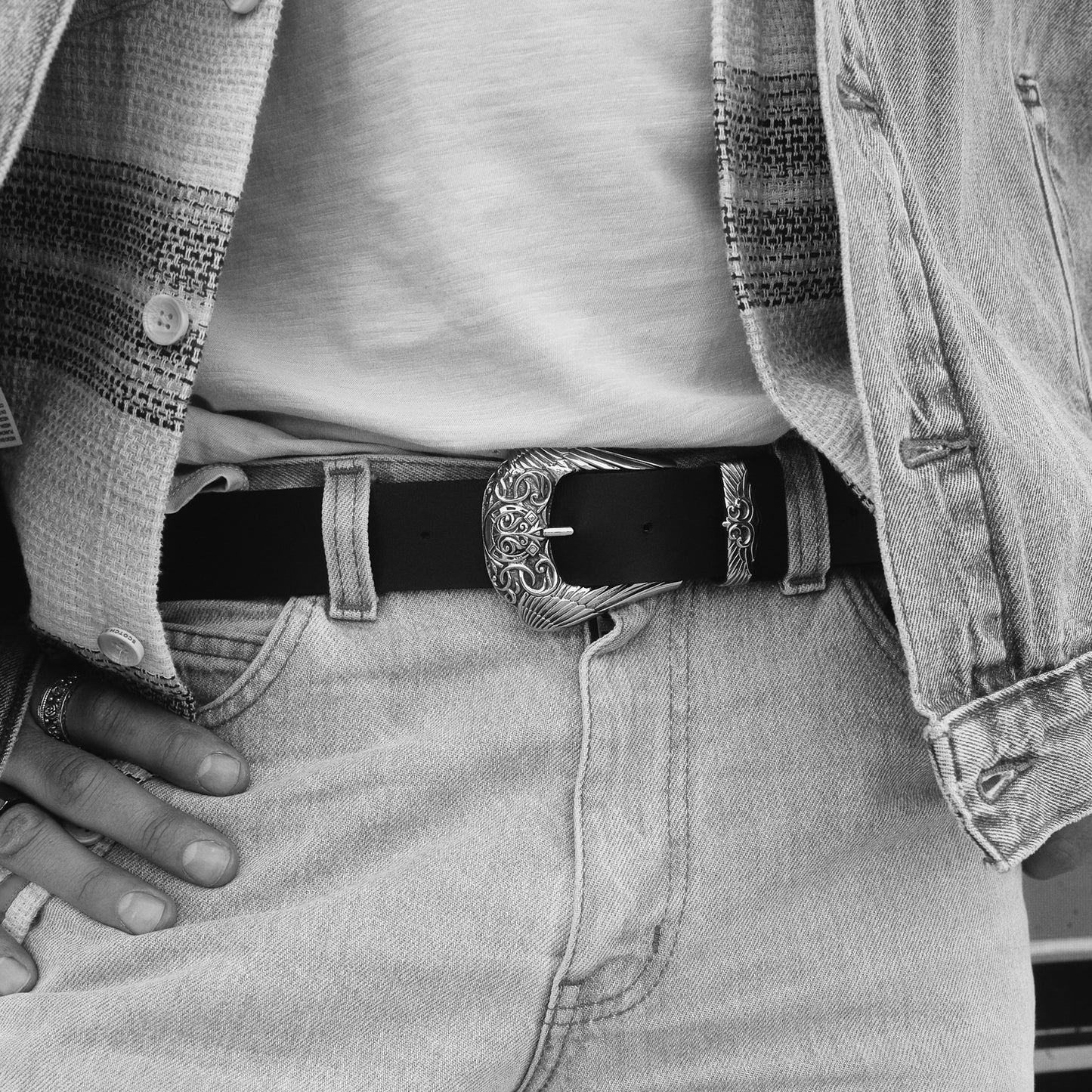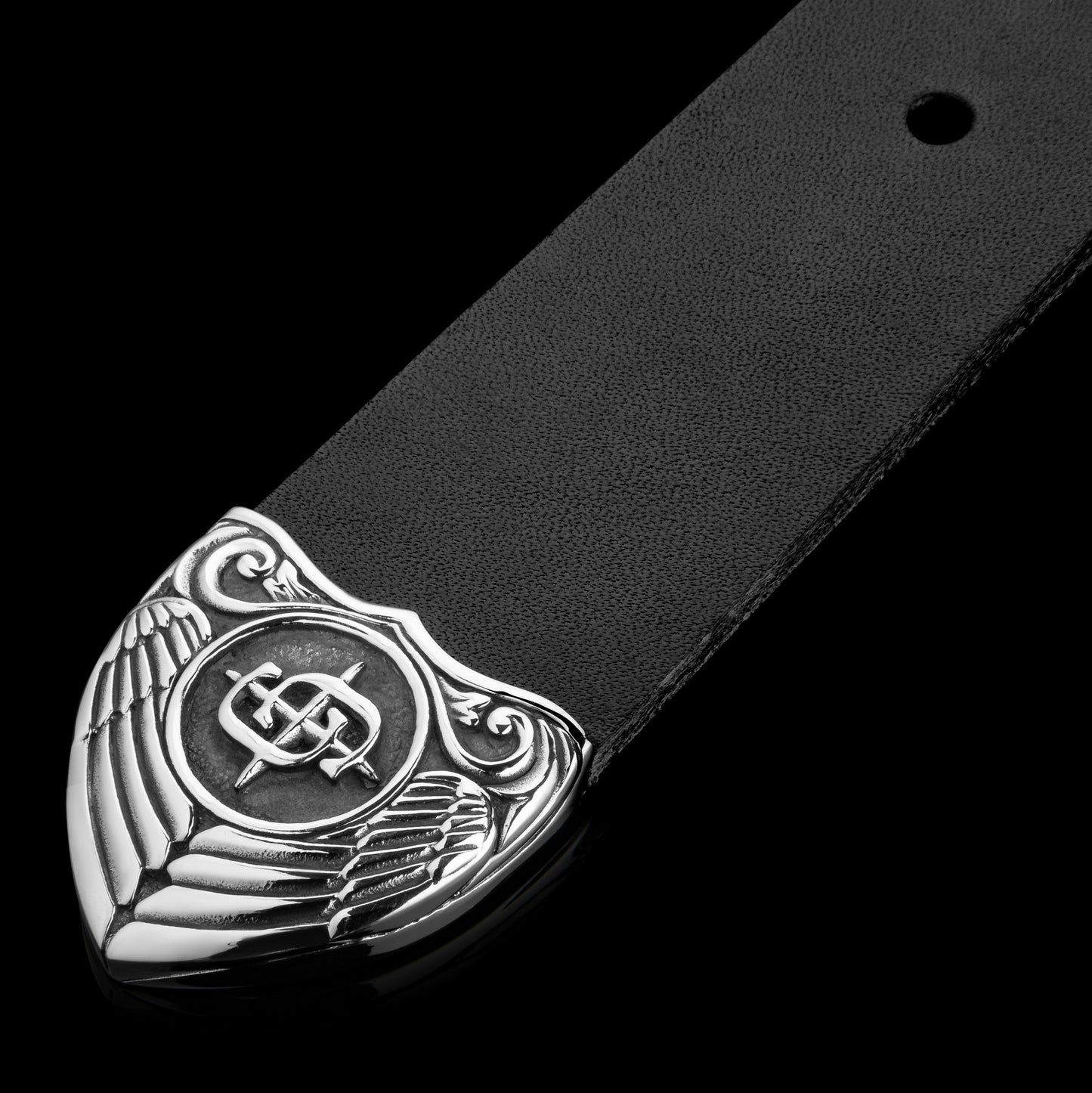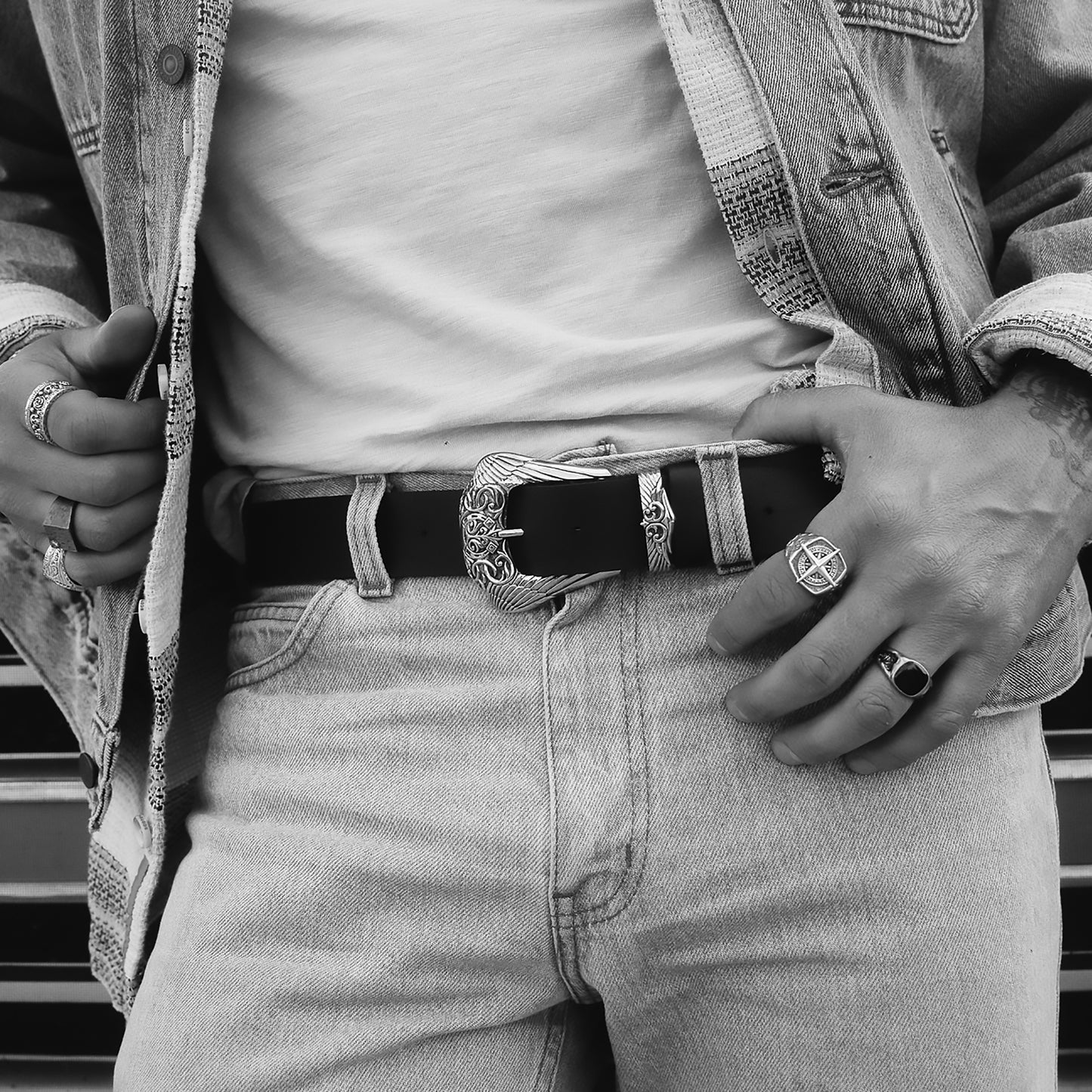 Great belt buckle
I love my belt. I just bought it a size bit bigger so I had to drill a hole into it 😭. I still love it though. The leather is like any other leather I owned but overall I'm happy with it.
Awesome!
Just stunning, workmanship is incredible. The detailing on the buckle and cap on the end of the belt are astonishing. Can't get enough of their stuff.
Awesome!
I bought this belt for a friend and he absolutely loves it! Get it now before its gone
Tricked out belt
I love this belt, there's so much great detail. Always enjoyed western belts as it is, but clocks just took the idea and turned it up to 11
great black belt with some style
Love it, manly buckle, good quality leather and workmanship, and fits comfortably true to size. Highly recommend!
popular this week
Regular price

$0.00

Sale price

$560.00

Unit price

per

Regular price

$0.00

Sale price

$175.00

Unit price

per

Regular price

Sale price

$90.00

Unit price

per

Regular price

$0.00

Sale price

$59.00

Unit price

per

Regular price

$0.00

Sale price

$90.00

Unit price

per

Regular price

$0.00

Sale price

$95.00

Unit price

per