Regular price
$120.00
Sale price
$84.00
Unit price
per
Sale
Sold out
var product = { id: 6838447046755, title: "Sacred x Ash Stone", available: true, handle: "sacred-x-ash-stone", description: "Throughout many different cultures a variety of bead types can be recognized as symbols for faith, positive energy, and healing. The Sacred bracelet offers a variety of smooth, textured, and coloured beads and stones, designed to be worn on its own or stacked with others.\nSize info S: 7.5 - 8M: 8.5 - 9 L: 9.25+\nHandcrafted Sterling Silver with Ash Stone.\n 5mm features 16 Ash Stone beads.8mm features 10 Ash Stone beads.", type: "Bracelets", tags: ["ALL","Beaded","Bracelets","Clocks and Colours","Clocks and Colours EU","Retail Ossington","Sale"], options_with_values: [{"name":"Size","position":1,"values":["S","M","L"]},{"name":"Gauge","position":2,"values":["5mm","8mm"]}], colors: null, featured_media: { alt: "Sacred x Ash Stone", src: "\/\/www.clocksandcolours.com\/cdn\/shop\/products\/BeadBracelet-AshStone-Large-ClocksAndColours-3_3588ede2-f3d4-4917-8659-1da23c7a3587.jpg?v=1667840397" }, url: "\/products\/sacred-x-ash-stone", mf: { } }; var variants = []; var variant = { id: 40069247271011, available: false, options: ["S","5mm"], option1: "S", option2: "5mm", option3: null, inventory_quantity: 0, price: 8400, compare_price: 12000, media: { alt: null, src: null }, mf: { } }; variants.push(variant); var variant = { id: 40069247303779, available: true, options: ["M","5mm"], option1: "M", option2: "5mm", option3: null, inventory_quantity: 56, price: 8400, compare_price: 12000, media: { alt: null, src: null }, mf: { } }; product.currentVariant = variant; variants.push(variant); var variant = { id: 40069247336547, available: true, options: ["L","5mm"], option1: "L", option2: "5mm", option3: null, inventory_quantity: 34, price: 8400, compare_price: 12000, media: { alt: null, src: null }, mf: { } }; variants.push(variant); var variant = { id: 40069247369315, available: false, options: ["S","8mm"], option1: "S", option2: "8mm", option3: null, inventory_quantity: 0, price: 9800, compare_price: 14000, media: { alt: null, src: null }, mf: { } }; variants.push(variant); var variant = { id: 40069247402083, available: true, options: ["M","8mm"], option1: "M", option2: "8mm", option3: null, inventory_quantity: 36, price: 9800, compare_price: 14000, media: { alt: null, src: null }, mf: { } }; variants.push(variant); var variant = { id: 40069247434851, available: true, options: ["L","8mm"], option1: "L", option2: "8mm", option3: null, inventory_quantity: 18, price: 9800, compare_price: 14000, media: { alt: null, src: null }, mf: { } }; variants.push(variant); product.variants = variants;
Throughout many different cultures a variety of bead types can be recognized as symbols for faith, positive energy, and healing. The Sacred bracelet offers a variety of smooth, textured, and coloured beads and stones, designed to be worn on its own or stacked with others.
Size info 
S: 7.5 - 8
M: 8.5 - 9 
L: 9.25+

Handcrafted Sterling Silver with Ash Stone.

5mm features 16 Ash Stone beads.
8mm features 10 Ash Stone beads.
All of our jewelry products are covered by a Lifetime Warranty
Clearance items are final sale - No exchanges or refunds.
Bracelet Sizing
BRACELET SIZING GUIDE
Do you already have a bracelet that fits your wrist?
Yes - Measure Bracelet
No - Measure Wrist
Lay your bracelet out straight on a flat surface.
Use a ruler to measure the length of the bracelet (in inches). Include the length of the clasp, but do not include any portion of the clasp that is "internal," such as pins or latches that insert into the clasp (see red section on the above illustration).
Your bracelet size will match the measurement in inches (ie 7.5" equals Size 7.5).
Round up if you are in between sizes.
Wrap a piece of string around your wrist.
Ensure you have enough slack that the bracelet can move freely around your wrist.
Pinch the spot where the bracelet overlaps itself between two fingers and remove the string from your wrist.
Continue to pinch the string in this spot and lay it on a flat surface. With your other hand mark this spot on the string using a pen.
In inches, measure the end of the string to the marking you just made.
Your size is the measurement in inches (if you measured 8 inches, you should order a size 8).
If you are between sizes it is always best to size up rather than down.
View full details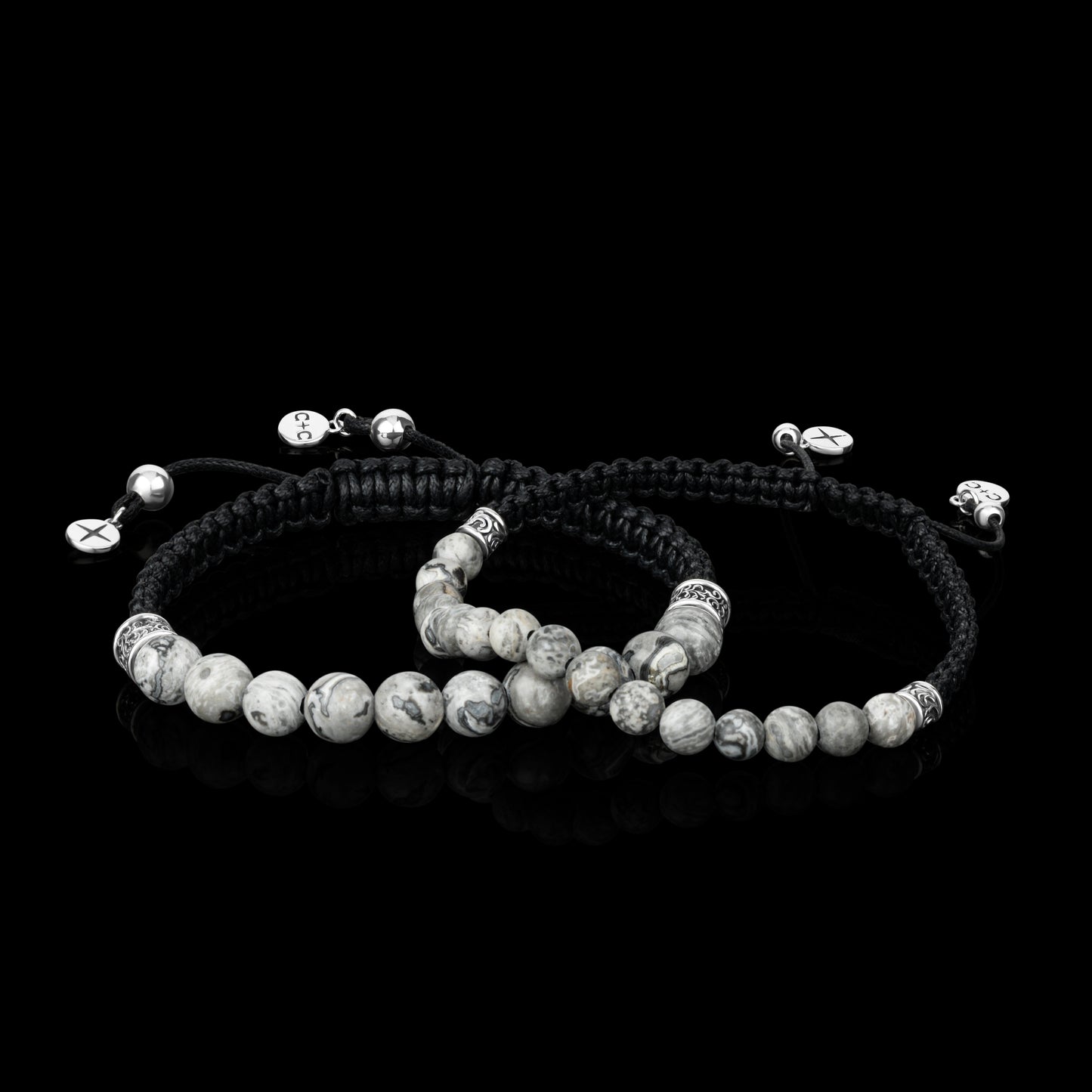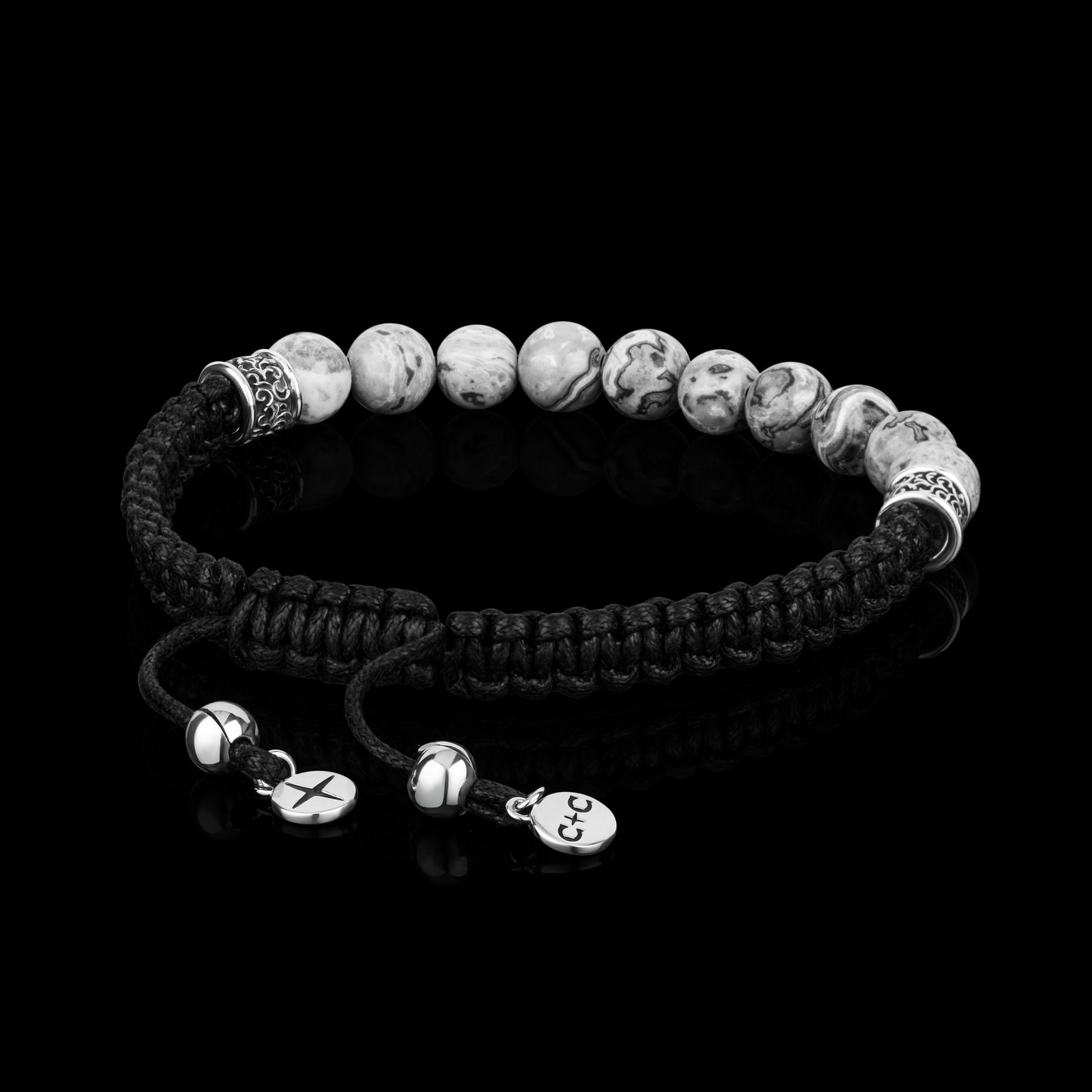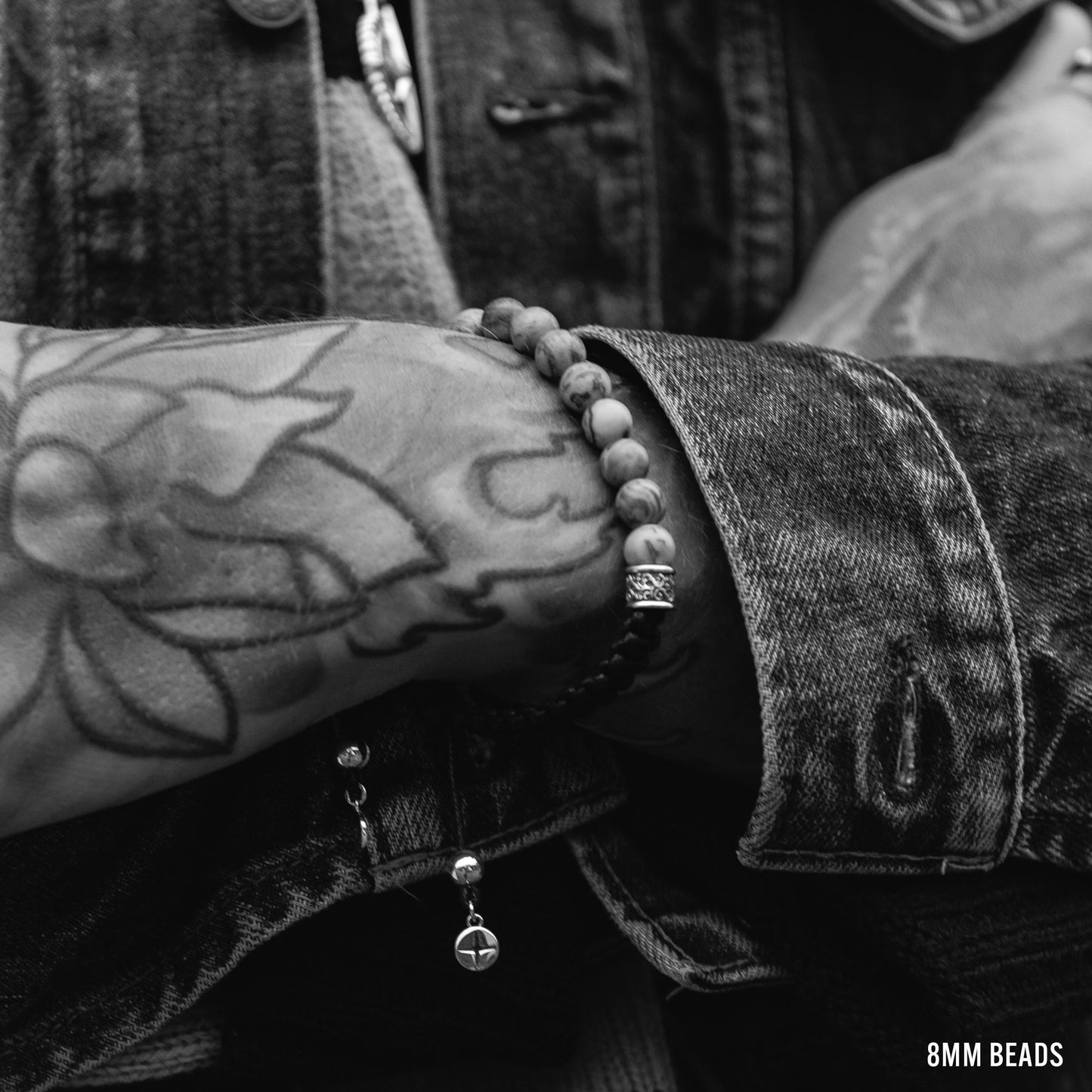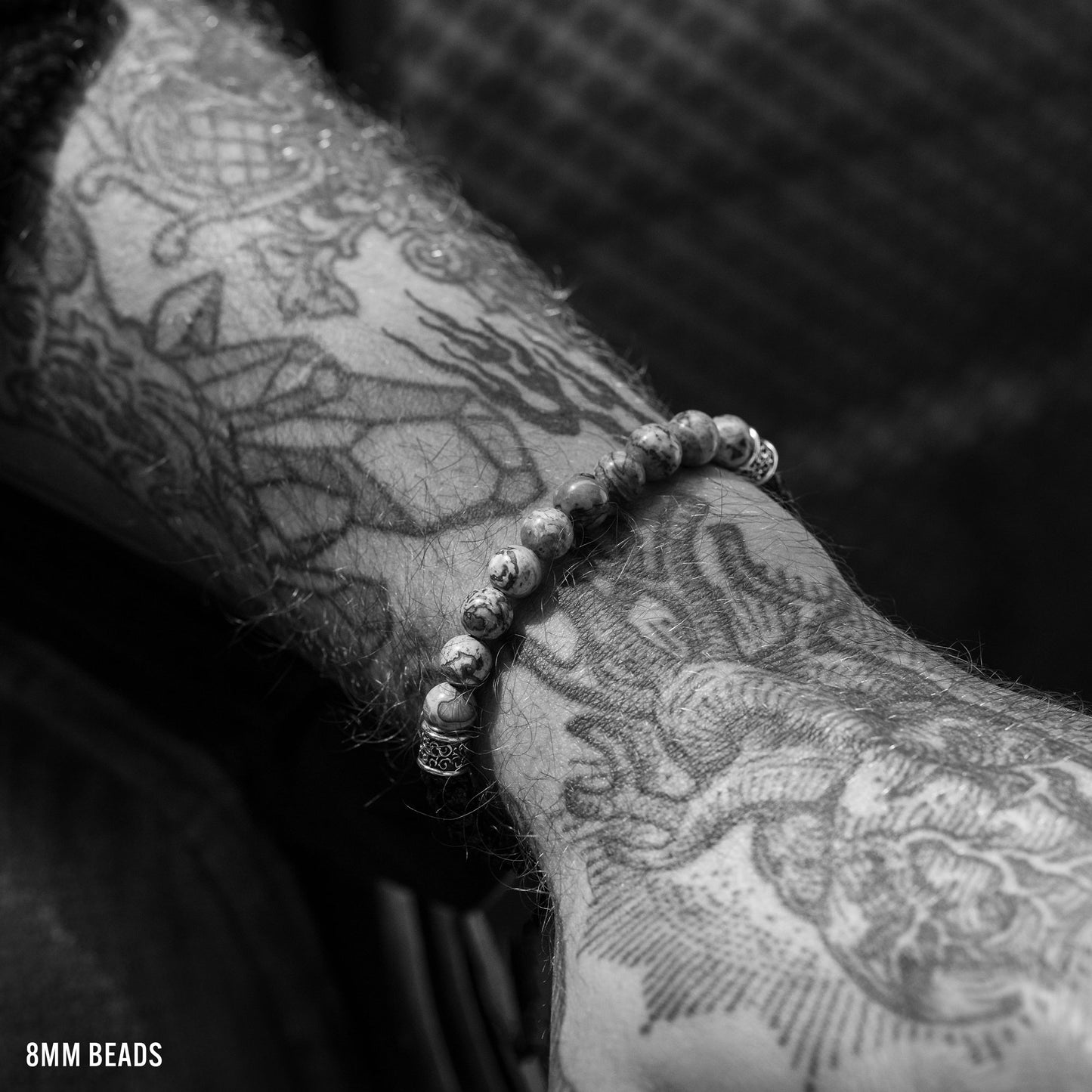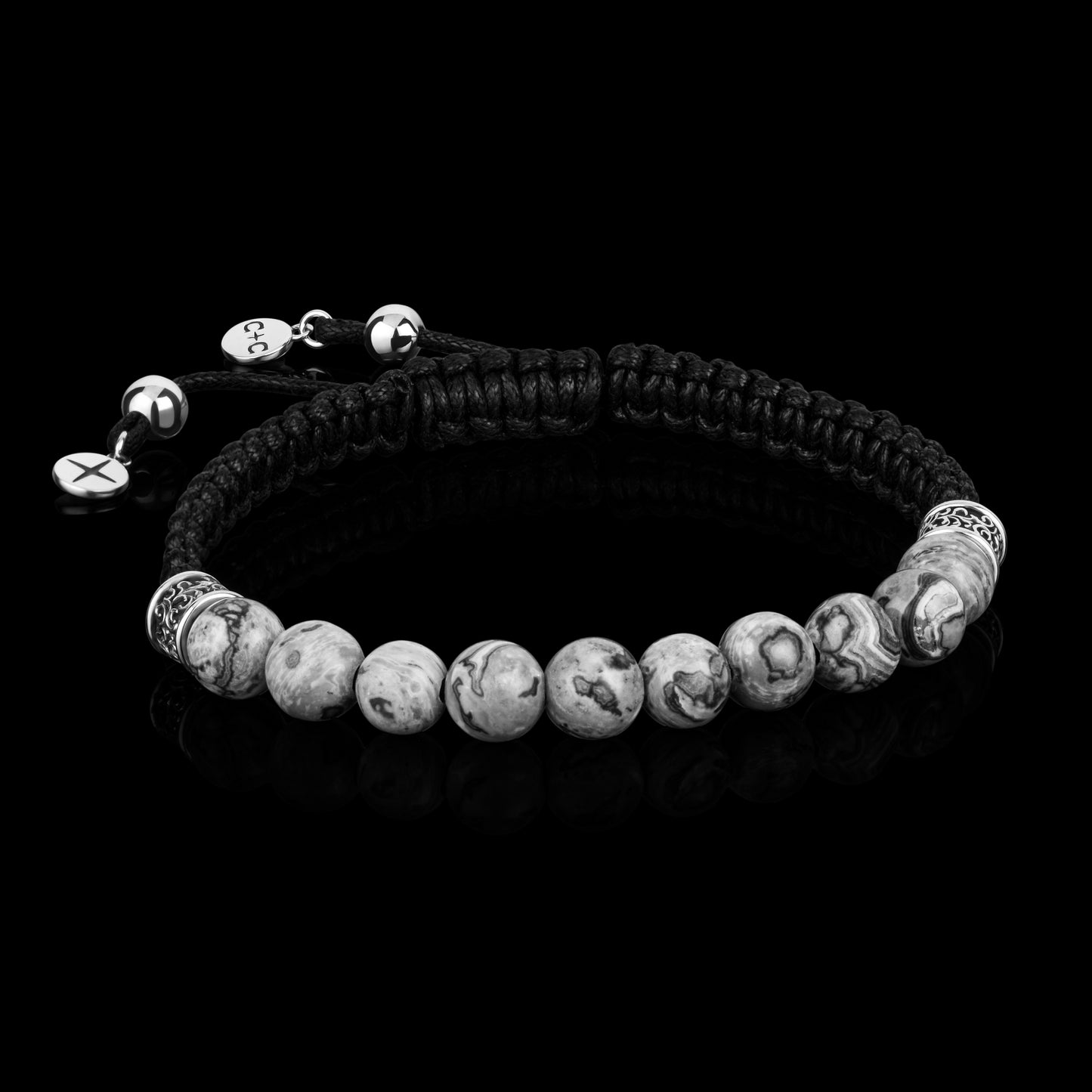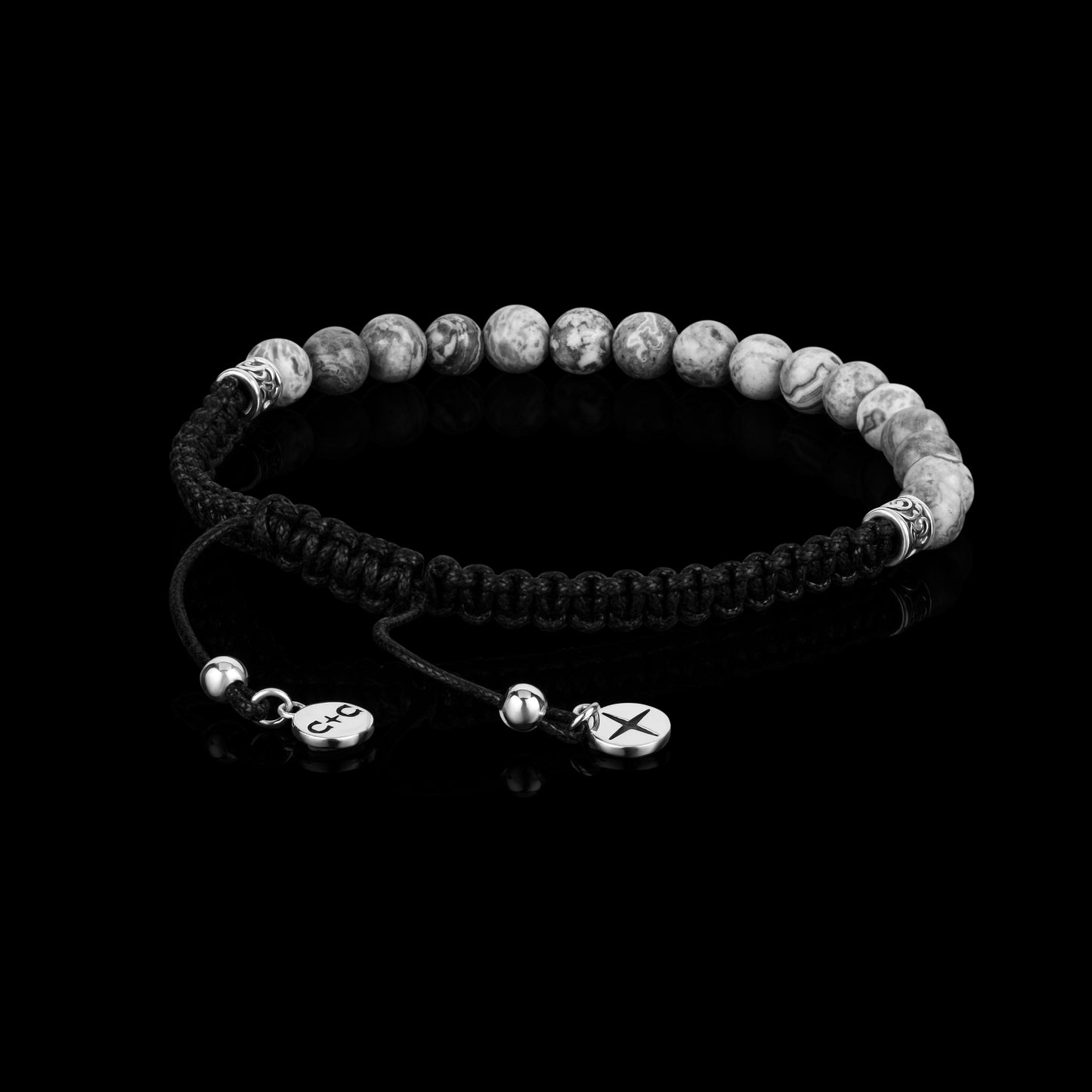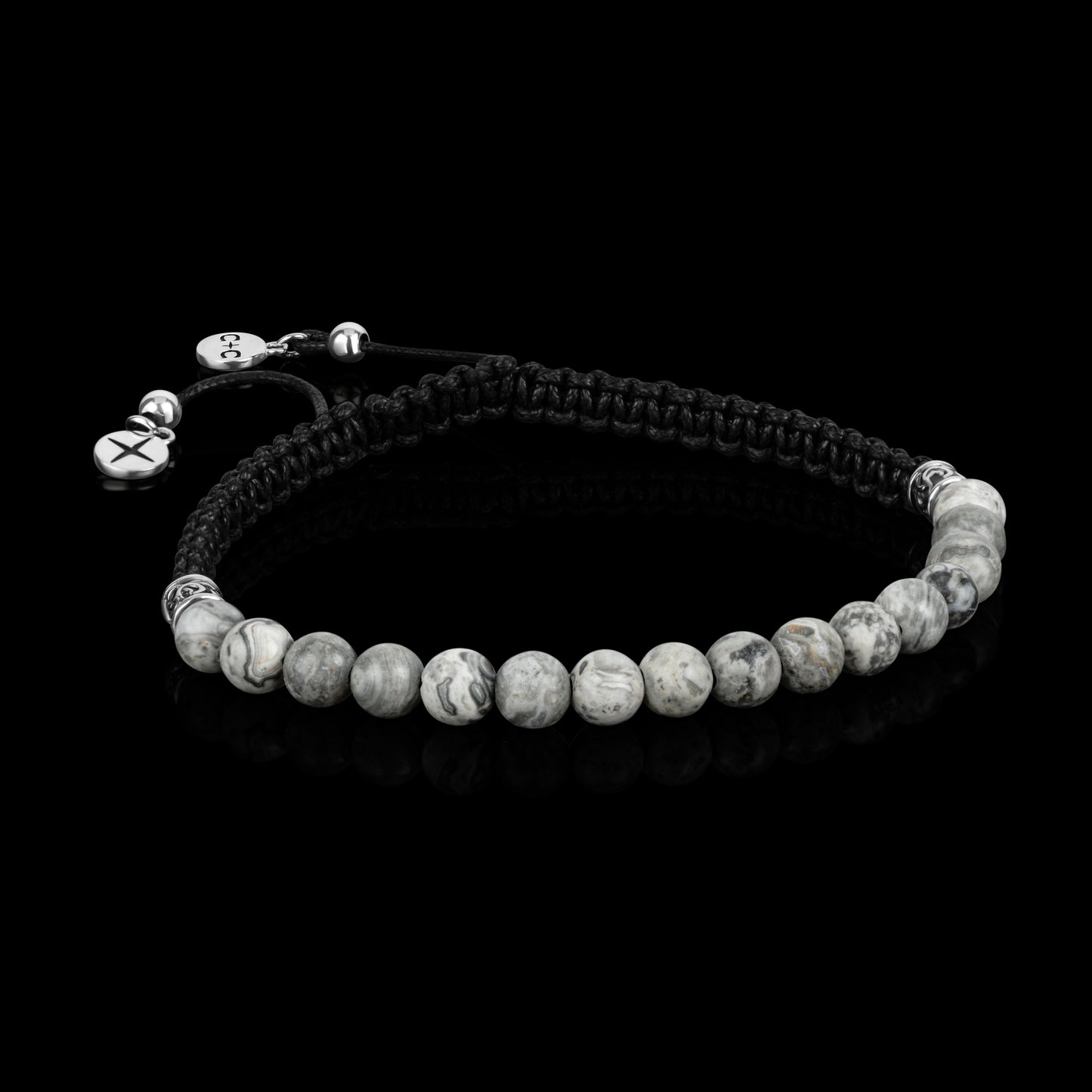 Very stylish
Very nice piece, I never take it off, been looking at the rings for a while but I decided I wanted something more to my collection and I feel this was an amazing piece to add to my collection.
Awesome quality
The beads are awesome but i was most impressed with the leather quality. It has become one of my go-to pieces. C&C always delivers in quality.
Beautiful causal bracelet
I wear this piece mostly every day, it's an amazing piece for summer !
Only problem is I have small wrists (7") so the small is even too loose on me so it slides up and down a bit but I've gotten used to it. Still definitely deserves 5 stars because the quality is incredible as always.
Size is a little big than usual
The website says S size is equivalent to size 7 & 7.5 but for me it's more like a 8. So take this into account when ordering. Otherwise subperb quality from C&C as usual
Great piece
Very clean and elegant look. The ash stones have a great color in person and I strongly recommend getting the bigger version to let their beauty shine.
popular this week
Regular price

$0.00

Sale price

$560.00

Unit price

per

Regular price

$0.00

Sale price

$175.00

Unit price

per

Regular price

Sale price

$90.00

Unit price

per

Regular price

$0.00

Sale price

$59.00

Unit price

per

Regular price

$0.00

Sale price

$90.00

Unit price

per

Regular price

$0.00

Sale price

$95.00

Unit price

per