Regular price
$59.00
Sale price
$44.25
var product = { id: 6867678036067, title: "Headliner Tee x Vintage Black", available: true, handle: "headliner-tee-x-vintage-black", description: "\nDesigned for mosh pits, main stages and heavy metal spirits, this vintage-inspired tee has been washed over 50 times to give it a smooth, worn-in look and feel. The screenprint is designed to get better with age, while the slightly boxy fit and premium heavy-weight, soft-touch cotton knit fabric gives it a classic shape.\nEach screenprint is hand-pulled in Toronto, Canada. 100% Cotton. Machine wash cold, hang to dry.", type: "Tees", tags: ["ALL","Apparel","Clocks and Colours","Clocks and Colours EU","Clothing","Discountable","Retail Ossington"], options_with_values: [{"name":"Size","position":1,"values":["S","M","L","XL","XXL"]}], colors: null, featured_media: { alt: "Headliner Tee x Vintage Black", src: "\/\/www.clocksandcolours.com\/cdn\/shop\/products\/HeadLiner-ClocksAndColours-1_e3ebd6a5-66d1-4dfa-a95a-dd9d74fb9702.jpg?v=1671722573" }, url: "\/collections\/all\/products\/headliner-tee-x-vintage-black", mf: { } }; var variants = []; var variant = { id: 40173591658595, available: true, options: ["S"], option1: "S", option2: null, option3: null, inventory_quantity: 6, price: 5900, compare_price: 0, media: { alt: "Headliner Tee x Vintage Black", src: "\/\/www.clocksandcolours.com\/cdn\/shop\/products\/HeadLiner-ClocksAndColours-1_e3ebd6a5-66d1-4dfa-a95a-dd9d74fb9702.jpg?v=1671722573" }, mf: { } }; product.currentVariant = variant; variants.push(variant); var variant = { id: 40173591691363, available: true, options: ["M"], option1: "M", option2: null, option3: null, inventory_quantity: 18, price: 5900, compare_price: 0, media: { alt: "Headliner Tee x Vintage Black", src: "\/\/www.clocksandcolours.com\/cdn\/shop\/products\/HeadLiner-ClocksAndColours-1_e3ebd6a5-66d1-4dfa-a95a-dd9d74fb9702.jpg?v=1671722573" }, mf: { } }; variants.push(variant); var variant = { id: 40173591724131, available: true, options: ["L"], option1: "L", option2: null, option3: null, inventory_quantity: 3, price: 5900, compare_price: 0, media: { alt: "Headliner Tee x Vintage Black", src: "\/\/www.clocksandcolours.com\/cdn\/shop\/products\/HeadLiner-ClocksAndColours-1_e3ebd6a5-66d1-4dfa-a95a-dd9d74fb9702.jpg?v=1671722573" }, mf: { } }; variants.push(variant); var variant = { id: 40173591756899, available: true, options: ["XL"], option1: "XL", option2: null, option3: null, inventory_quantity: 15, price: 5900, compare_price: 0, media: { alt: "Headliner Tee x Vintage Black", src: "\/\/www.clocksandcolours.com\/cdn\/shop\/products\/HeadLiner-ClocksAndColours-1_e3ebd6a5-66d1-4dfa-a95a-dd9d74fb9702.jpg?v=1671722573" }, mf: { } }; variants.push(variant); var variant = { id: 40173591789667, available: true, options: ["XXL"], option1: "XXL", option2: null, option3: null, inventory_quantity: 22, price: 5900, compare_price: 0, media: { alt: "Headliner Tee x Vintage Black", src: "\/\/www.clocksandcolours.com\/cdn\/shop\/products\/HeadLiner-ClocksAndColours-1_e3ebd6a5-66d1-4dfa-a95a-dd9d74fb9702.jpg?v=1671722573" }, mf: { } }; variants.push(variant); product.variants = variants;
Designed for mosh pits, main stages and heavy metal spirits, this vintage-inspired tee has been washed over 50 times to give it a smooth, worn-in look and feel. The screenprint is designed to get better with age, while the slightly boxy fit and premium heavy-weight, soft-touch cotton knit fabric gives it a classic shape.
Each screenprint is hand-pulled in Toronto, Canada. 100% Cotton. Machine wash cold, hang to dry.
View full details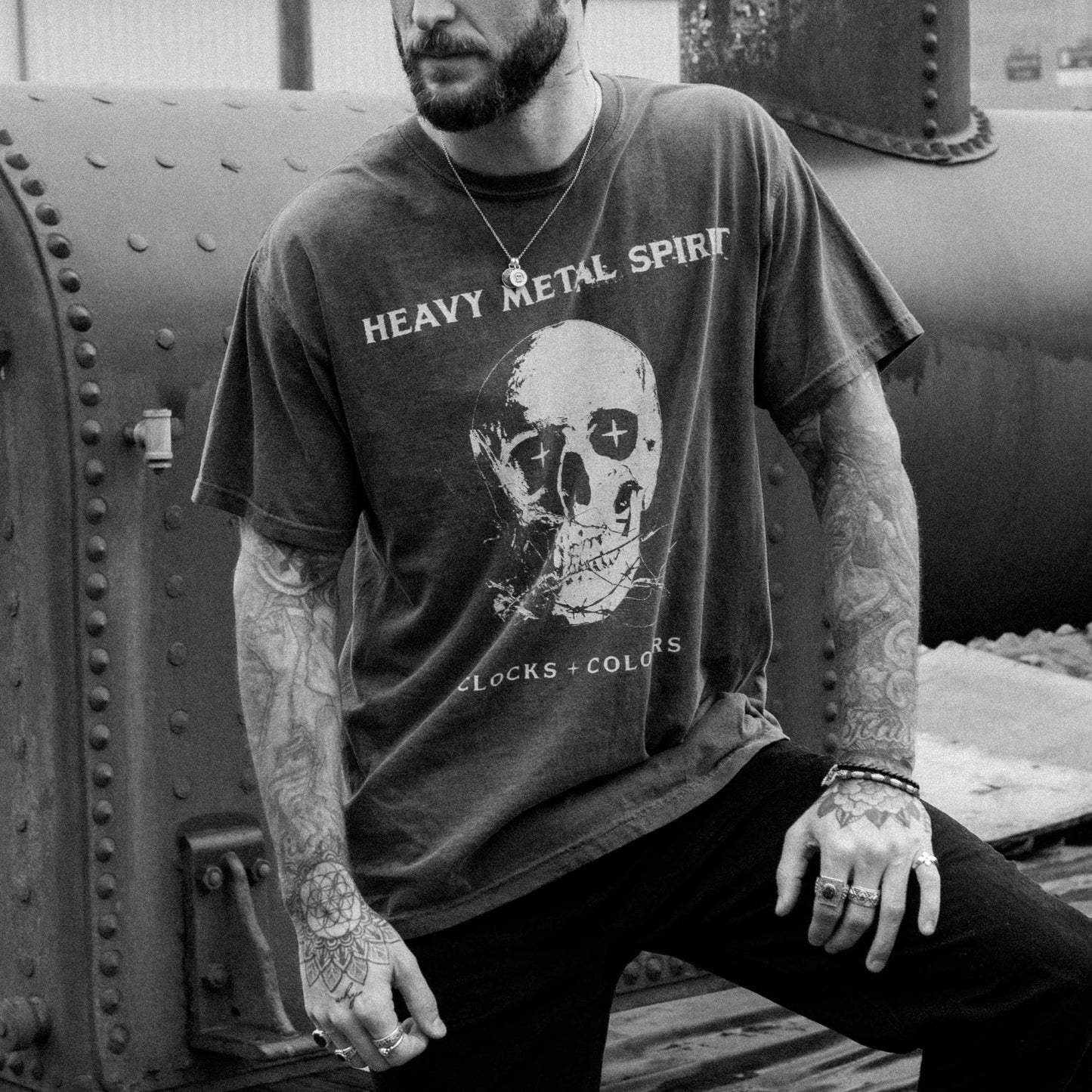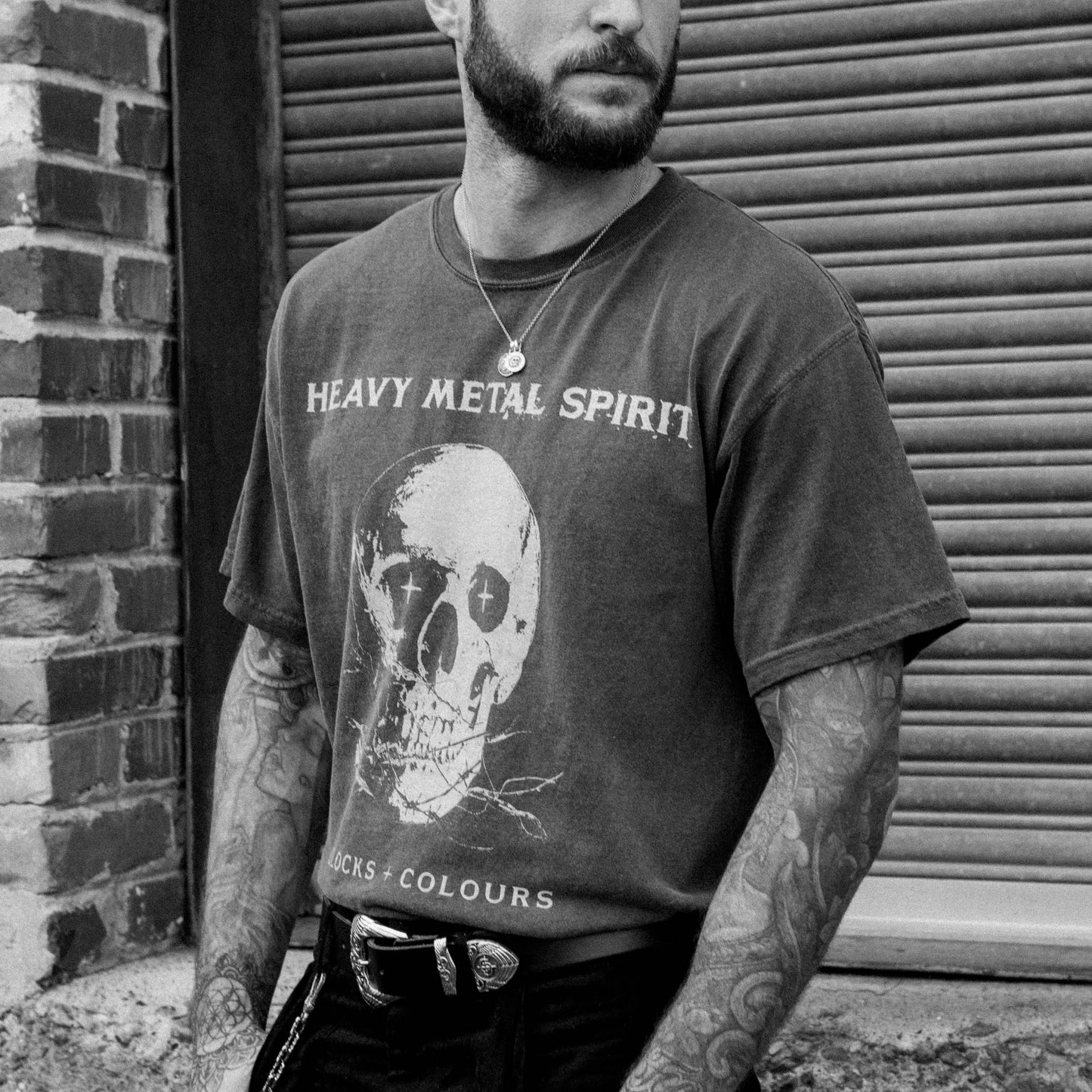 Great Quality Shirt
I'm 5'8 and ordered this shirt in size large and it was a perfect fit (I like to wear my shirts a little loose). Great material and vintage look, get lots of compliments, would recommend!
comfortable with a worn look
Another to the summer tshirt rotation
Love It!
The t-shirt is great quality and a good fit!
Favourite piece!
My favourite shirt now! i love the new c&c shirts and wear them every day. I'm looking forward to more.
Great tee
Fits awesome and super cool, love a great skull shirt
popular this week
Regular price

$560.00

Sale price

$420.00

Regular price

$175.00

Sale price

$131.25

Regular price

$90.00

Sale price

$67.50

Regular price

$59.00

Sale price

$44.25

Regular price

$90.00

Sale price

$67.50

Regular price

$95.00

Sale price

$71.25