Regular price
$285.00
Sale price
$199.50
Unit price
per
Sale
Sold out
var product = { id: 6690141208675, title: "Dungeon", available: true, handle: "dungeon", description: "The medieval dungeon has long been associated with gruesome tales of crime and punishment. Built at the behest of maniacal kings, these claustrophobic prisons were hidden deep below the castle walls, where escape was all but impossible. Adorned with striking turquoise stones, this menacing skull ring cautions that even the most picturesque castles are home to dark secrets that have gone untold for centuries.\nHandcrafted Sterling Silver with Turquoise Inlay", type: "Rings", tags: ["__tab1:product-tabs-ring-sizing","ALL","Clocks and Colours","Clocks and Colours EU","Retail Ossington","Rings","Sale"], options_with_values: [{"name":"Size","position":1,"values":["6","7","8","9","10","11","12","13","14"]}], colors: null, featured_media: { alt: "Dungeon", src: "\/\/www.clocksandcolours.com\/cdn\/shop\/products\/Dungeon-ClocksandColours-1_66c2ab9e-55cb-4fca-8234-dec9a2f3e1d4.jpg?v=1642689074" }, url: "\/products\/dungeon", mf: { } }; var variants = []; var variant = { id: 39711413993571, available: false, options: ["6"], option1: "6", option2: null, option3: null, inventory_quantity: 0, price: 19950, compare_price: 28500, media: { alt: "Dungeon", src: "\/\/www.clocksandcolours.com\/cdn\/shop\/products\/Dungeon-ClocksandColours-1_66c2ab9e-55cb-4fca-8234-dec9a2f3e1d4.jpg?v=1642689074" }, mf: { } }; variants.push(variant); var variant = { id: 39711414026339, available: true, options: ["7"], option1: "7", option2: null, option3: null, inventory_quantity: 18, price: 19950, compare_price: 28500, media: { alt: "Dungeon", src: "\/\/www.clocksandcolours.com\/cdn\/shop\/products\/Dungeon-ClocksandColours-1_66c2ab9e-55cb-4fca-8234-dec9a2f3e1d4.jpg?v=1642689074" }, mf: { } }; product.currentVariant = variant; variants.push(variant); var variant = { id: 39711414059107, available: true, options: ["8"], option1: "8", option2: null, option3: null, inventory_quantity: 5, price: 19950, compare_price: 28500, media: { alt: "Dungeon", src: "\/\/www.clocksandcolours.com\/cdn\/shop\/products\/Dungeon-ClocksandColours-1_66c2ab9e-55cb-4fca-8234-dec9a2f3e1d4.jpg?v=1642689074" }, mf: { } }; variants.push(variant); var variant = { id: 39711414091875, available: true, options: ["9"], option1: "9", option2: null, option3: null, inventory_quantity: 6, price: 19950, compare_price: 28500, media: { alt: "Dungeon", src: "\/\/www.clocksandcolours.com\/cdn\/shop\/products\/Dungeon-ClocksandColours-1_66c2ab9e-55cb-4fca-8234-dec9a2f3e1d4.jpg?v=1642689074" }, mf: { } }; variants.push(variant); var variant = { id: 39711414124643, available: false, options: ["10"], option1: "10", option2: null, option3: null, inventory_quantity: 0, price: 19950, compare_price: 28500, media: { alt: "Dungeon", src: "\/\/www.clocksandcolours.com\/cdn\/shop\/products\/Dungeon-ClocksandColours-1_66c2ab9e-55cb-4fca-8234-dec9a2f3e1d4.jpg?v=1642689074" }, mf: { } }; variants.push(variant); var variant = { id: 39711414157411, available: false, options: ["11"], option1: "11", option2: null, option3: null, inventory_quantity: 0, price: 19950, compare_price: 28500, media: { alt: "Dungeon", src: "\/\/www.clocksandcolours.com\/cdn\/shop\/products\/Dungeon-ClocksandColours-1_66c2ab9e-55cb-4fca-8234-dec9a2f3e1d4.jpg?v=1642689074" }, mf: { } }; variants.push(variant); var variant = { id: 39711414190179, available: false, options: ["12"], option1: "12", option2: null, option3: null, inventory_quantity: 0, price: 19950, compare_price: 28500, media: { alt: "Dungeon", src: "\/\/www.clocksandcolours.com\/cdn\/shop\/products\/Dungeon-ClocksandColours-1_66c2ab9e-55cb-4fca-8234-dec9a2f3e1d4.jpg?v=1642689074" }, mf: { } }; variants.push(variant); var variant = { id: 39711414222947, available: false, options: ["13"], option1: "13", option2: null, option3: null, inventory_quantity: 0, price: 19950, compare_price: 28500, media: { alt: "Dungeon", src: "\/\/www.clocksandcolours.com\/cdn\/shop\/products\/Dungeon-ClocksandColours-1_66c2ab9e-55cb-4fca-8234-dec9a2f3e1d4.jpg?v=1642689074" }, mf: { } }; variants.push(variant); var variant = { id: 39711414255715, available: true, options: ["14"], option1: "14", option2: null, option3: null, inventory_quantity: 6, price: 19950, compare_price: 28500, media: { alt: "Dungeon", src: "\/\/www.clocksandcolours.com\/cdn\/shop\/products\/Dungeon-ClocksandColours-1_66c2ab9e-55cb-4fca-8234-dec9a2f3e1d4.jpg?v=1642689074" }, mf: { } }; variants.push(variant); product.variants = variants;
The medieval dungeon has long been associated with gruesome tales of crime and punishment. Built at the behest of maniacal kings, these claustrophobic prisons were hidden deep below the castle walls, where escape was all but impossible. Adorned with striking turquoise stones, this menacing skull ring cautions that even the most picturesque castles are home to dark secrets that have gone untold for centuries.
Handcrafted Sterling Silver with Turquoise Inlay
All of our jewelry products are covered by a Lifetime Warranty
Clearance items are final sale - No exchanges or refunds.
Ring Sizing
RING SIZING GUIDE
Do you already have a ring that fits the finger you're shopping for?
Yes - Measure Ring
No - Measure Finger
Use a ruler to measure the inner diameter of a ring that fits your desired finger (in mm).
Compare the measurement to the below chart.
Round up if you are in between two sizes.
| Inner Diameter (mm) | Ring Size (US) |
| --- | --- |
| 13.2 | 2 |
| 14.1 | 3 |
| 14.9 | 4 |
| 15.7 | 5 |
| 16.5 | 6 |
| 17.3 | 7 |
| 18.1 | 8 |
| 19.0 | 9 |
| 19.8 | 10 |
| 20.6 | 11 |
| 21.4 | 12 |
| 22.2 | 13 |
Option 1: Do not have a printer 
Cut a thin strip of paper 10-12cm long.
Wrap the strip of paper tightly around your desired finger.
Using a pen or pencil, mark the point where the paper overlaps itself.
Lay the strip of paper on a flat surface and use a ruler to measure the distance from the end of the strip to the marking you made in millimeters. This will give you the circumference of your finger.
Using the below chart, convert your measurement into standard US sizing.
If you are in between sizes, it's best to round up rather than down.
| Circumference (mm) | Ring Size (US) |
| --- | --- |
| 41.5 | 2 |
| 44.1 | 3 |
| 46.9 | 4 |
| 49.3 | 5 |
| 51.9 | 6 |
| 54.5 | 7 |
| 57.2 | 8 |
| 59.3 | 9 |
| 62.3 | 10 |
| 65.0 | 11 |
| 67.5 | 12 |
| 70.1 | 13 |
Option 2: Do have a printer
Print our ring sizer PDF (here) on standard 8.5" x 11" paper at 100% scale (ensure scaling is turned off in your print dialog box).
Measure the grey section — it should be 3.5 inches from end to end.
Cut out the sizing tool (the top section that looks like a ruler), and wrap the piece of paper tightly around your desired finger. The number that aligns closest with the 'Read Size Here' line will be your size.
Alternatively, if you have a ring that fits you well (or a ring you know fits the person you are gifting to), place the ring on top of each sizing circle until you find the matching size. The matching circle should fit perfectly inside the ring.
If you are in between sizes, it's best to round up rather than down.
View full details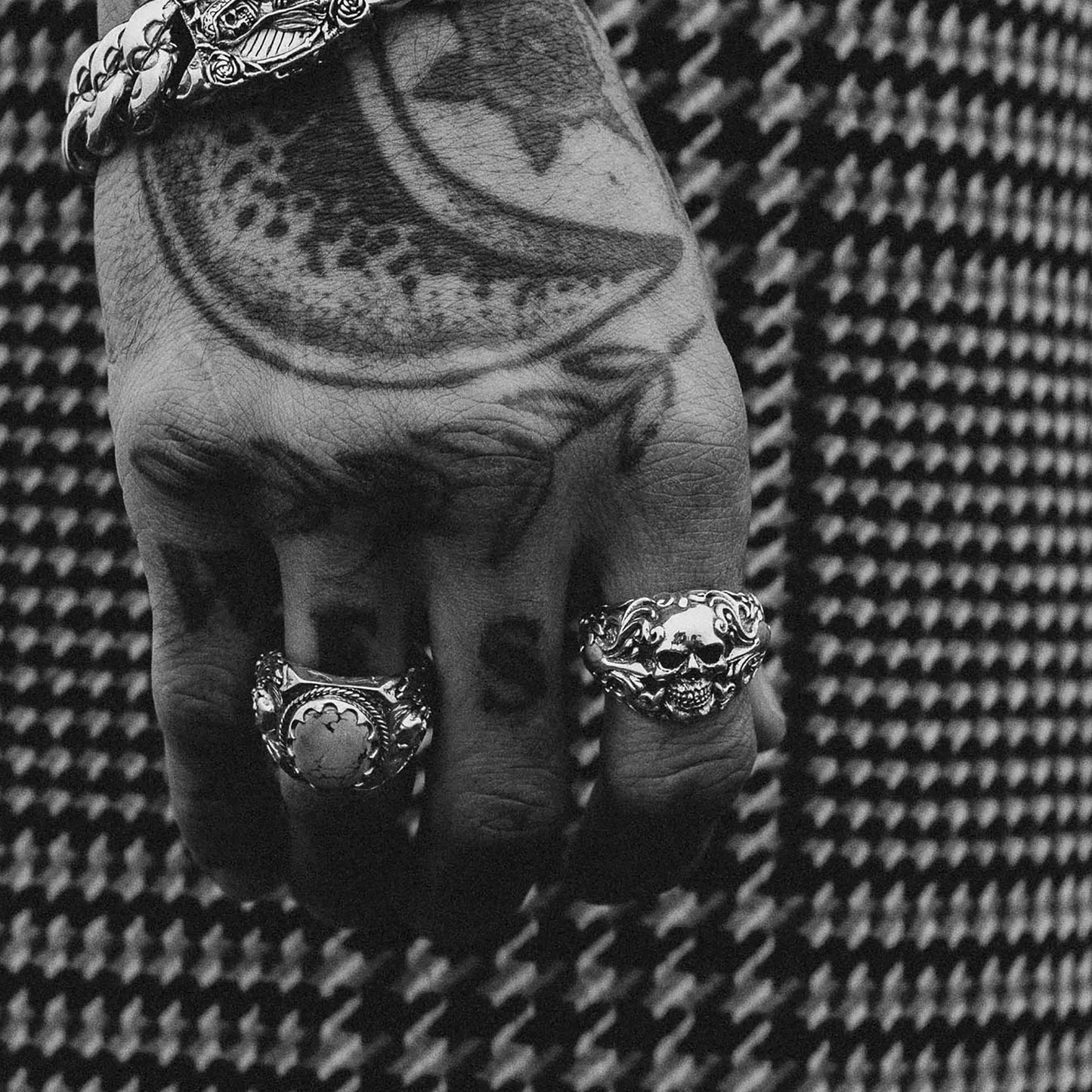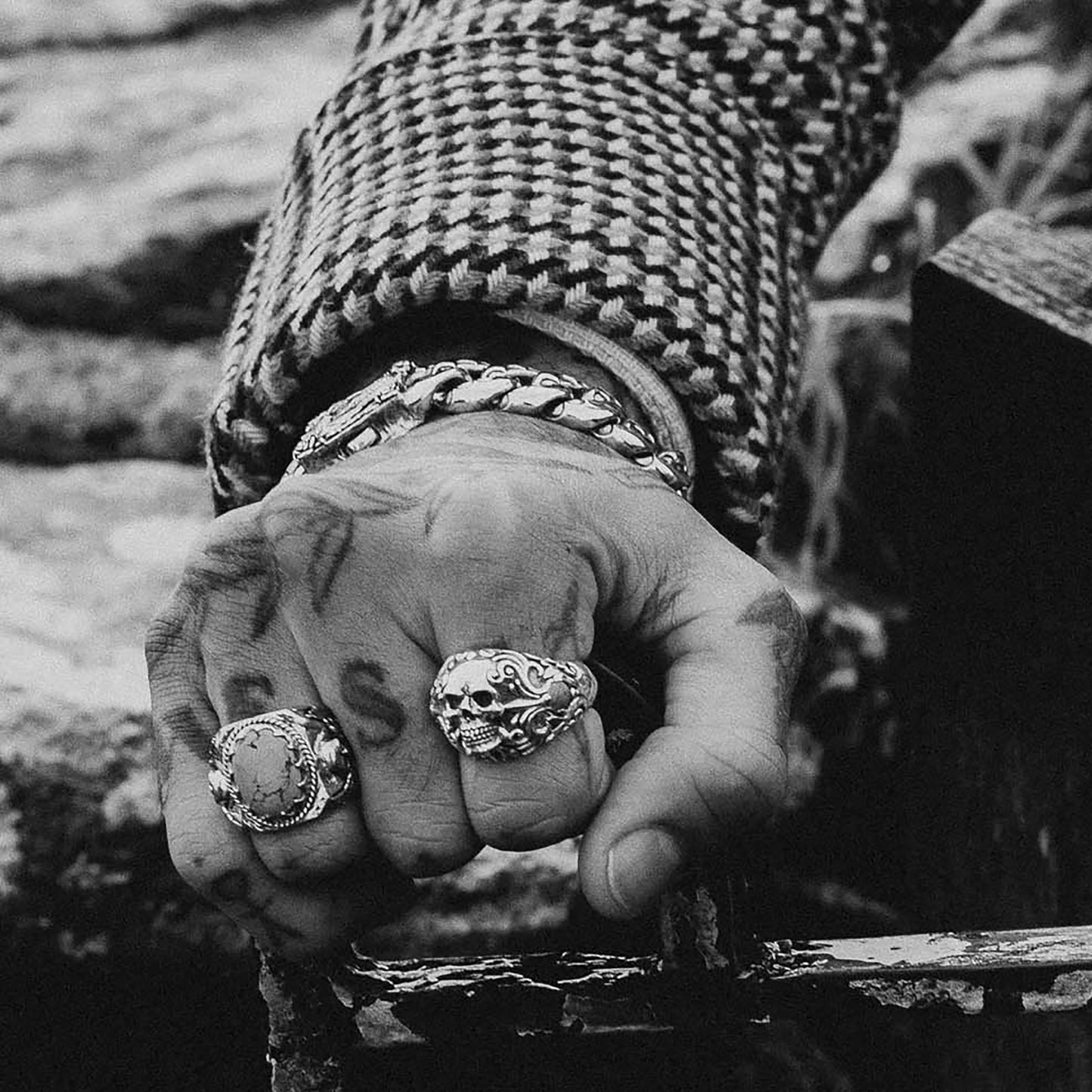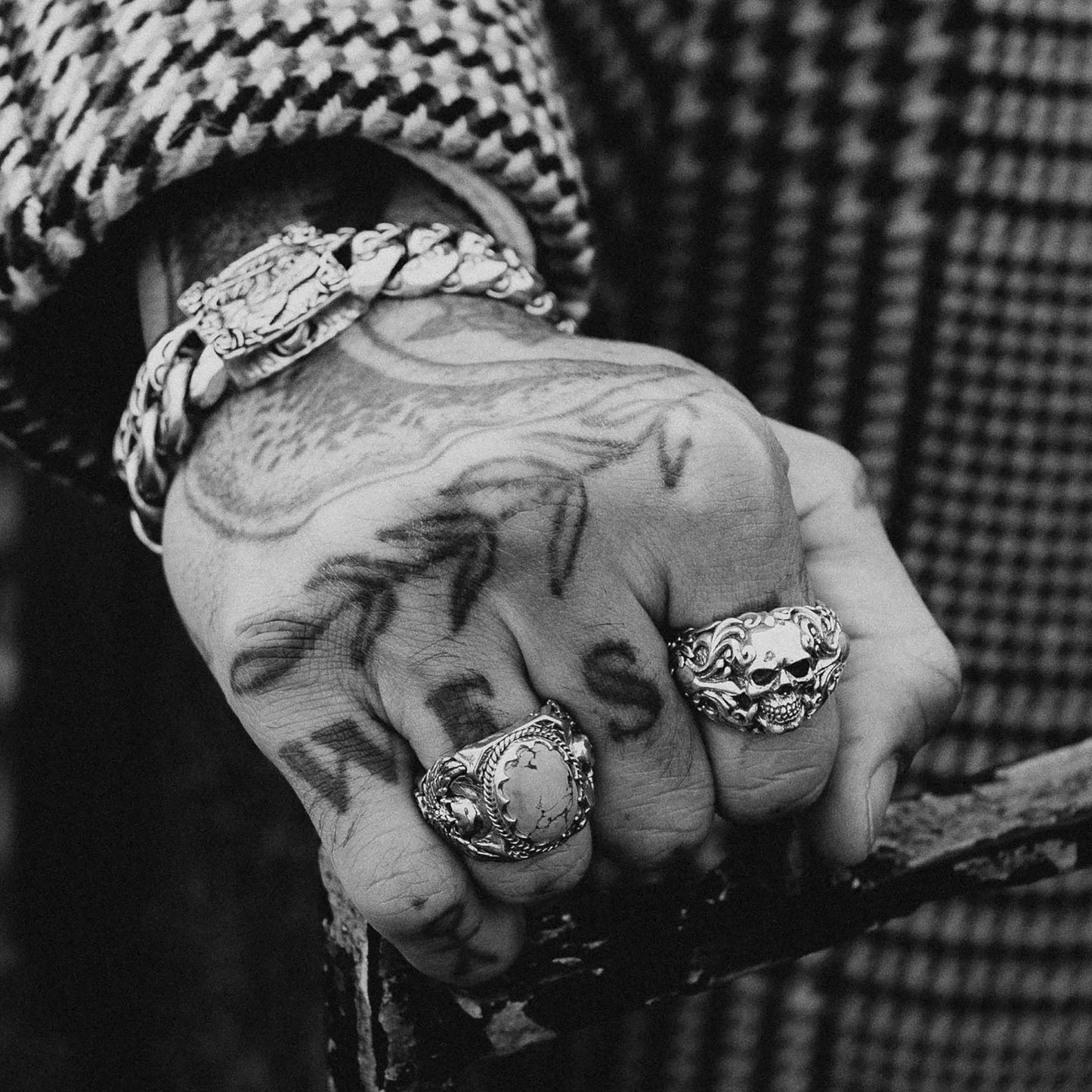 My favorite ring so far
Very detailed with a nice weight to it and the turquoise stones just make it pop 10/10!
Turquoise Skull ring with serious attitude.
This ring is beyond killer. It's wicked cool. It looks awesome on my pinky finger with my 2 C&C Turquoise bracelets.I pair it with other bracelets and rings as well. but this little devil stands out.the attention to detail and the fine craftsmanship are why I only buy from C&C there is no better. good stuff isn't cheap and cheap stuff isn't good. this ring is 100% PRIMO #1 wicked cool-badass, get the picture.
What a beast
This ring is an absolute beast. Very sturdy and a real statement piece. Skull rings have the potential to be a little cheesy but not this bad boy. There is so much more to it than just the skull and the turquoise stones really top it off. Combine that with it being on sale right now and you have an absolute winner.
Just awsome
beautiful piece with excelents details
Finally a ring that fits and is made well!
I have large hands and most companies don't make size 14, so getting my hands on this ring has made me super happy. No stretching, no skimping on metal. This ring is everything it was advertised to be and more. High detail, and solid. I absolutely love this ring!
popular this week
Regular price

$0.00

Sale price

$560.00

Unit price

per

Regular price

$0.00

Sale price

$175.00

Unit price

per

Regular price

Sale price

$90.00

Unit price

per

Regular price

$0.00

Sale price

$59.00

Unit price

per

Regular price

$0.00

Sale price

$90.00

Unit price

per

Regular price

$0.00

Sale price

$95.00

Unit price

per