Regular price
$0.00
Sale price
$660.00
Unit price
per
Sale
Sold out
var product = { id: 6678592487523, title: "Charge", available: true, handle: "charge", description: "\nIn heraldry, a charge is the symbol that occupies the center of a shield or crest—in this case, a rearing lion, adorned with a crown, and ready for war. With 1\/2 inch links detailed with regal flourishes, this bracelet straps on with the weight of battle armour. \nHandcrafted Sterling Silver", type: "Bracelets", tags: ["__tab1:product-tabs-bracelet-sizing","ALL","Bracelets","Clocks and Colours","Clocks and Colours EU","Discountable","Retail Ossington"], options_with_values: [{"name":"Size","position":1,"values":["7","7.5","8","8.5","9"]}], colors: null, featured_media: { alt: "Charge", src: "\/\/www.clocksandcolours.com\/cdn\/shop\/products\/Charge-ClocksandColours-2.jpg?v=1639669780" }, url: "\/products\/charge", mf: { } }; var variants = []; var variant = { id: 39683221192803, available: true, options: ["7"], option1: "7", option2: null, option3: null, inventory_quantity: 6, price: 66000, compare_price: 0, media: { alt: "Charge", src: "\/\/www.clocksandcolours.com\/cdn\/shop\/products\/Charge-ClocksandColours-2.jpg?v=1639669780" }, mf: { } }; product.currentVariant = variant; variants.push(variant); var variant = { id: 39683221225571, available: true, options: ["7.5"], option1: "7.5", option2: null, option3: null, inventory_quantity: 5, price: 66000, compare_price: 0, media: { alt: "Charge", src: "\/\/www.clocksandcolours.com\/cdn\/shop\/products\/Charge-ClocksandColours-2.jpg?v=1639669780" }, mf: { } }; variants.push(variant); var variant = { id: 39683221258339, available: true, options: ["8"], option1: "8", option2: null, option3: null, inventory_quantity: 21, price: 66000, compare_price: 0, media: { alt: "Charge", src: "\/\/www.clocksandcolours.com\/cdn\/shop\/products\/Charge-ClocksandColours-2.jpg?v=1639669780" }, mf: { } }; variants.push(variant); var variant = { id: 39683221291107, available: true, options: ["8.5"], option1: "8.5", option2: null, option3: null, inventory_quantity: 16, price: 66000, compare_price: 0, media: { alt: "Charge", src: "\/\/www.clocksandcolours.com\/cdn\/shop\/products\/Charge-ClocksandColours-2.jpg?v=1639669780" }, mf: { } }; variants.push(variant); var variant = { id: 39683221323875, available: true, options: ["9"], option1: "9", option2: null, option3: null, inventory_quantity: 4, price: 66000, compare_price: 0, media: { alt: "Charge", src: "\/\/www.clocksandcolours.com\/cdn\/shop\/products\/Charge-ClocksandColours-2.jpg?v=1639669780" }, mf: { } }; variants.push(variant); product.variants = variants;
In heraldry, a charge is the symbol that occupies the center of a shield or crest—in this case, a rearing lion, adorned with a crown, and ready for war. With 1/2 inch links detailed with regal flourishes, this bracelet straps on with the weight of battle armour. 
Handcrafted Sterling Silver
Bracelet Sizing
BRACELET SIZING GUIDE
Do you already have a bracelet that fits your wrist?
Yes - Measure Bracelet
No - Measure Wrist
Lay your bracelet out straight on a flat surface.
Use a ruler to measure the length of the bracelet (in inches). Include the length of the clasp, but do not include any portion of the clasp that is "internal," such as pins or latches that insert into the clasp (see red section on the above illustration).
Your bracelet size will match the measurement in inches (ie 7.5" equals Size 7.5).
Round up if you are in between sizes.
Wrap a piece of string around your wrist.
Ensure you have enough slack that the bracelet can move freely around your wrist.
Pinch the spot where the bracelet overlaps itself between two fingers and remove the string from your wrist.
Continue to pinch the string in this spot and lay it on a flat surface. With your other hand mark this spot on the string using a pen.
In inches, measure the end of the string to the marking you just made.
Your size is the measurement in inches (if you measured 8 inches, you should order a size 8).
If you are between sizes it is always best to size up rather than down.
View full details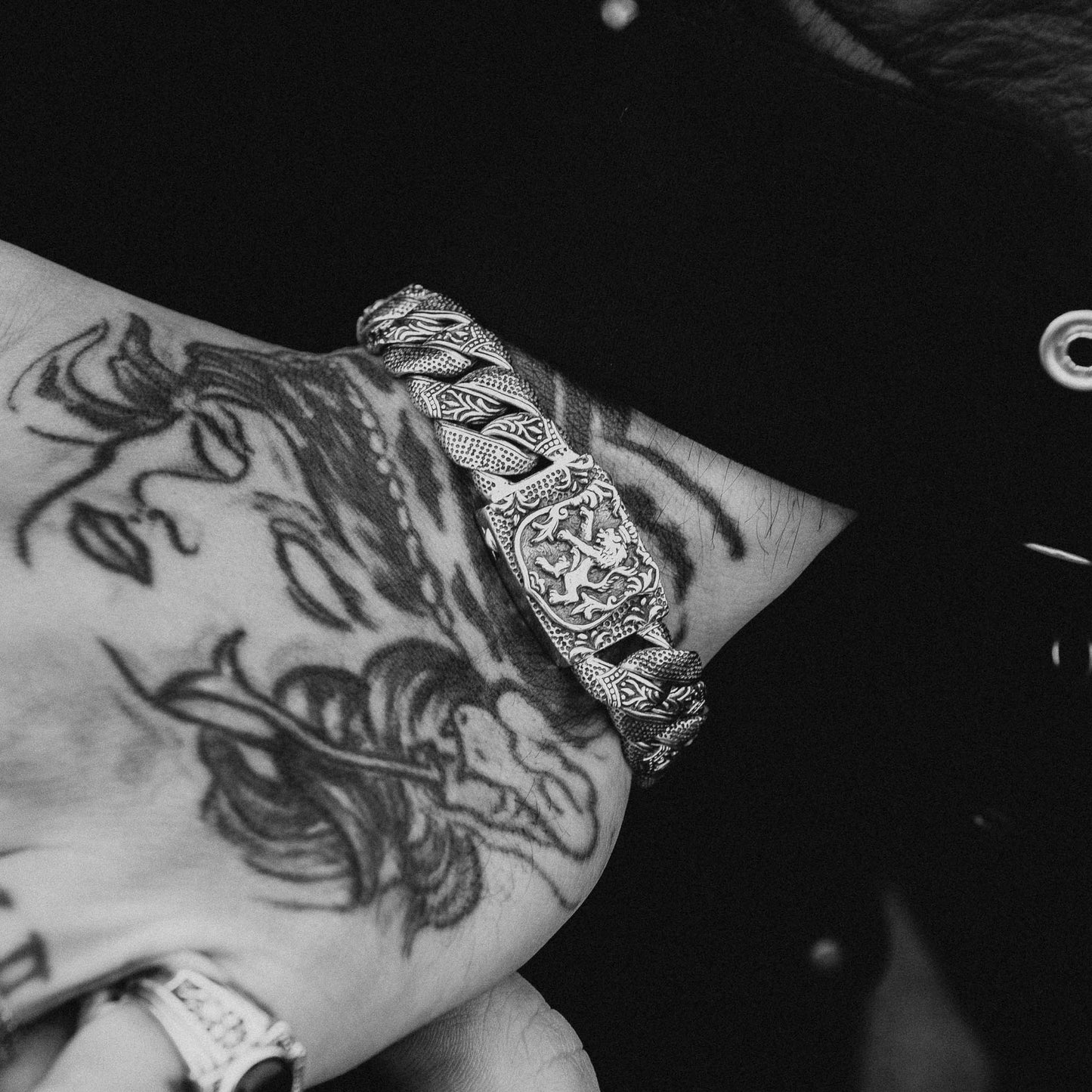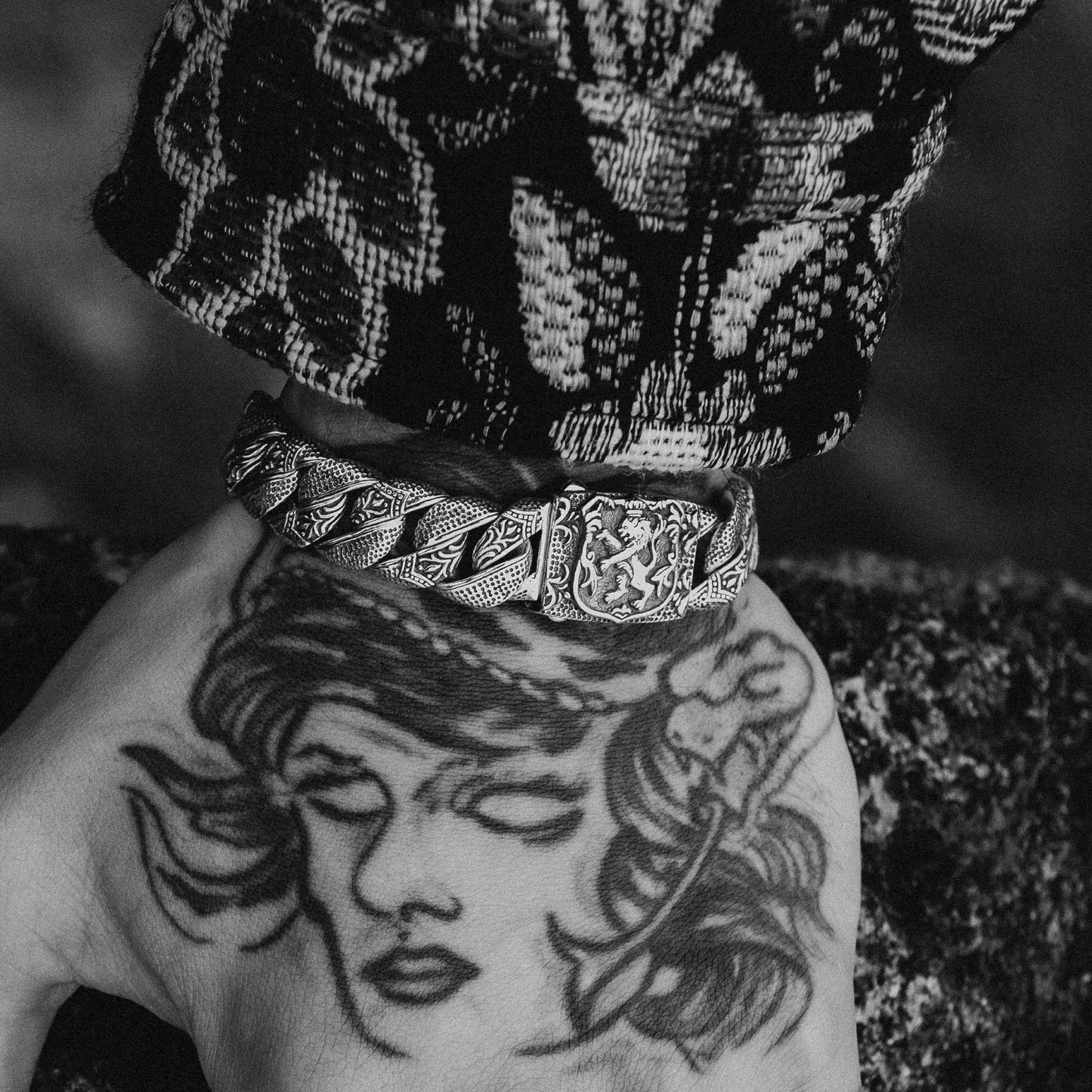 Simply Elegant
I've had people stop and ask me about this Bracelet and where I got it. Definitely makes you look twice and the more you look at it, the more to appreciate the craftsmanship. The Lion is close to my heart as it has a significant meaning in my name. To me it sigil of my forefathers who charged into battle without fear, I've never adorned something on my body with more pride than this bracelet.
Another amazing piece
Bought for my partner and he loves it. Well detailed, heavy in the hand, and high quality. Well worth the cost.
Another slam dunk
Love this company and the pieces they produce. My only issue is not having the money to buy more of them...hahaha. Keep up the great work.
Return
I have been trying to return this item since it arrived. If u check your records u will see that I have texted and emailed you several times. The item was accidentally ordered twice and I only need one. If u get get back to me so I may return the duplicated bracelet I would greatly appreciate it. Your failure to get back to me has greatly impacted my feelings about your company and any future purchases!
Statement piece!!
I have been wanting this bracelet for a very long time… I literally log onto the website and put it in my cart and then take it out all the time… . But this Christmas my wife pulled the trigger for me and Man in my glad she did… I've already gotten so many compliments. This bracelet is definitely a one of a kind and if you are on the fence like I was, just make it happen you will be so happy you did!! Definitely add it to your C&C collection!!! Rock on guys and keep up the great work!!!!!
popular this week
Regular price

$0.00

Sale price

$560.00

Unit price

per

Regular price

$0.00

Sale price

$175.00

Unit price

per

Regular price

Sale price

$90.00

Unit price

per

Regular price

$0.00

Sale price

$59.00

Unit price

per

Regular price

$0.00

Sale price

$90.00

Unit price

per

Regular price

$0.00

Sale price

$95.00

Unit price

per