Regular price
$0.00
Sale price
$560.00
Unit price
per
Sale
Sold out
[email protected] if you would like to see images of your hat prior to shipping.", type: "Hats", tags: ["ALL","Apparel","Clocks and Colours","Clothing","Discountable","Headwear","Retail Ossington"], options_with_values: [{"name":"Size","position":1,"values":["S","M","L","XL"]}], colors: null, featured_media: { alt: "Wide Brim Hat x Coup de Tete (Off-White)", src: "\/\/www.clocksandcolours.com\/cdn\/shop\/products\/CoupDeTete-Hat-White-1.jpg?v=1605111673" }, url: "\/products\/coup-de-tete-widebrim-hat-x-white", mf: { } }; var variants = []; var variant = { id: 33269365178467, available: true, options: ["S"], option1: "S", option2: null, option3: null, inventory_quantity: 30, price: 56000, compare_price: 0, media: { alt: null, src: null }, mf: { } }; product.currentVariant = variant; variants.push(variant); var variant = { id: 33269365211235, available: true, options: ["M"], option1: "M", option2: null, option3: null, inventory_quantity: 25, price: 56000, compare_price: 0, media: { alt: null, src: null }, mf: { } }; variants.push(variant); var variant = { id: 33269365244003, available: true, options: ["L"], option1: "L", option2: null, option3: null, inventory_quantity: 11, price: 56000, compare_price: 0, media: { alt: null, src: null }, mf: { } }; variants.push(variant); var variant = { id: 39499315806307, available: true, options: ["XL"], option1: "XL", option2: null, option3: null, inventory_quantity: 22, price: 56000, compare_price: 0, media: { alt: null, src: null }, mf: { } }; variants.push(variant); product.variants = variants;
var product = { id: 4737177682019, title: "Wide Brim Hat x Coup de Tete (Off-White)", available: true, handle: "coup-de-tete-widebrim-hat-x-white", description: "Designed in collaboration with bespoke hat-makers Coup de Tete, this wide brim, fur felt teardrop is as handcrafted as they come. Each hat features unique signatures, and no two are the same. Flame-distressed texture and scorched hot-knife detailing get better with age. A custom sterling silver north star safety pin, co-branded leather band and trademark playing card serve as the finishing touches on a hat that is designed to last a lifetime.\n\nSmall: 7 1\/4 (58cm | 22 5\/8\")Medium: 7 3\/8 (59cm | 23\")Large: 7 1\/2 (60cm | 23 1\/2\")Extra Large: 7 5\/8 (61cm | 23 7\/8\")\n\n\nHandmade in Toronto, Canada from fur felt (rabbit and beaver fur).\nEach hat is unique and the details will vary from what is pictured here. Please contact
Designed in collaboration with bespoke hat-makers Coup de Tete, this wide brim, fur felt teardrop is as handcrafted as they come. Each hat features unique signatures, and no two are the same. Flame-distressed texture and scorched hot-knife detailing get better with age. A custom sterling silver north star safety pin, co-branded leather band and trademark playing card serve as the finishing touches on a hat that is designed to last a lifetime.
Small: 7 1/4 (58cm | 22 5/8")
Medium: 7 3/8 (59cm | 23")
Large: 
7 1/2 (60cm | 23 1/2")
Extra Large: 7 5/8 (61cm | 23 7/8")
Handmade in Toronto, Canada from fur felt (rabbit and beaver fur).
Each hat is unique and the details will vary from what is pictured here. Please contact [email protected] if you would like to see images of your hat prior to shipping.
View full details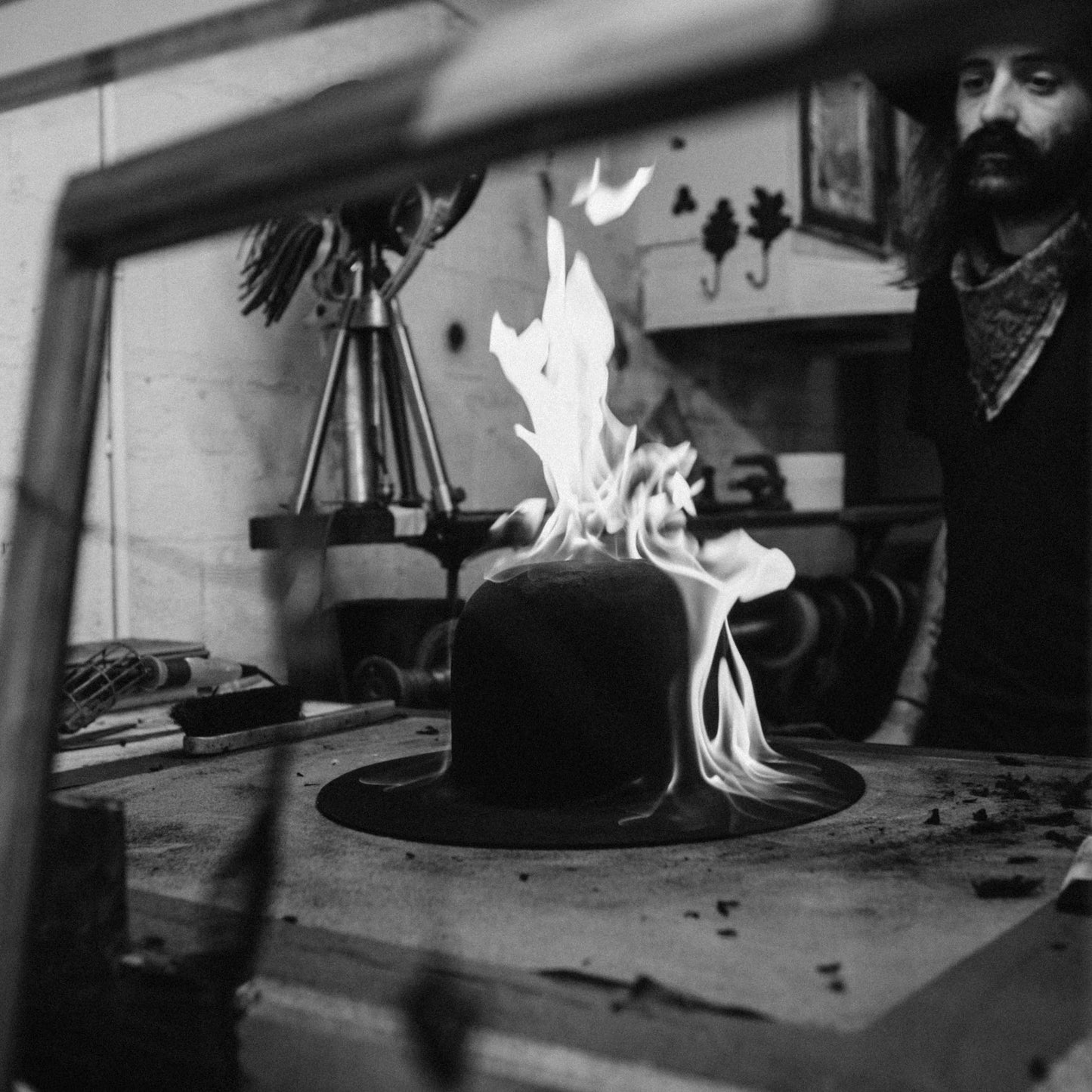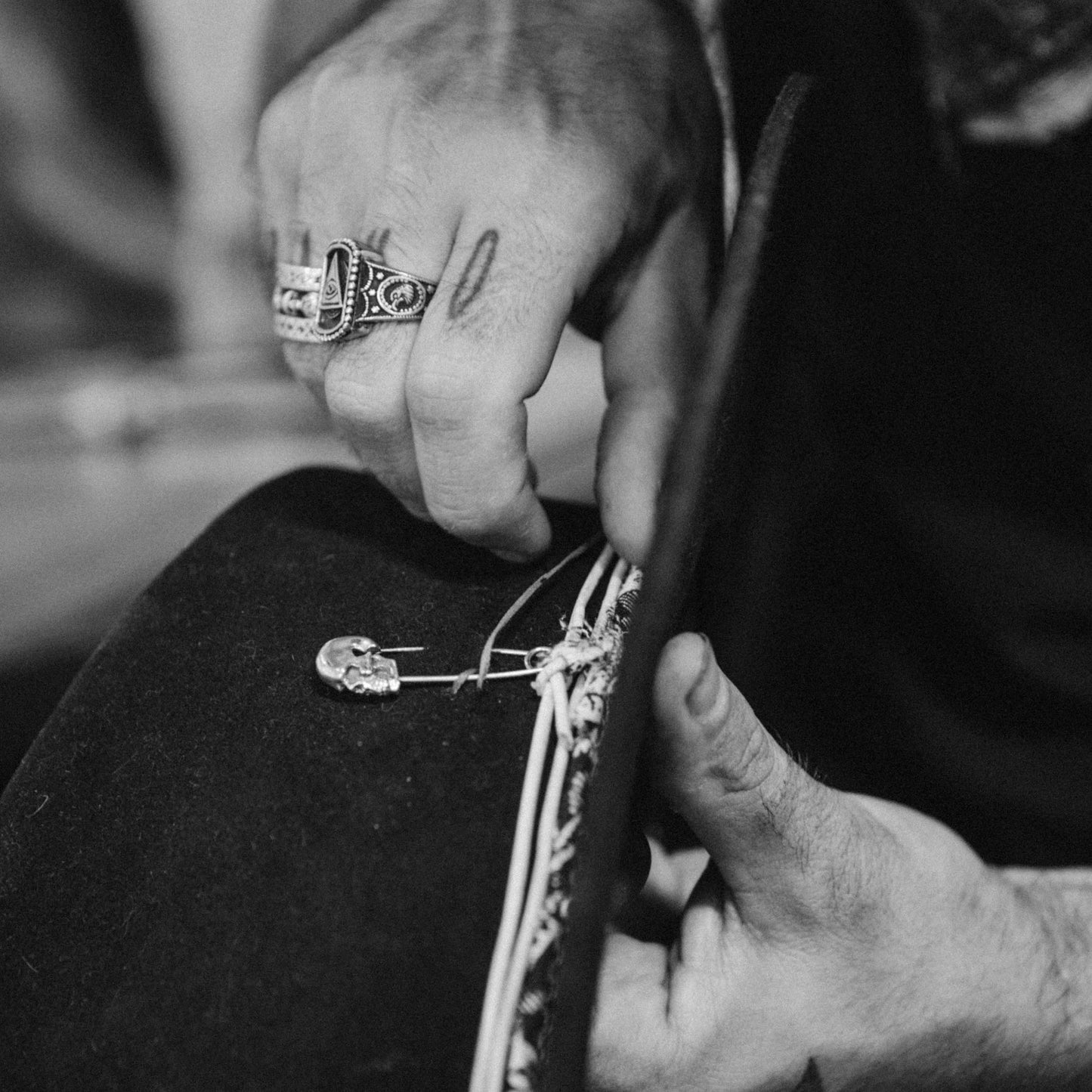 A true work of art
Such a beautiful hat and work of art. It makes for a great statement piece and really does speak for itself! I'm so happy to have this in my wardrobe!!
I freakin love this hat
This is an essential wardrobe piece, the color goes with everything and anything, and it has the perfect fit.
Another great C & C
I have 4 hats now from clocks and colours and love them all. Service, shipping is amazing. Products are always great!!
It's a literal work of art!
I purchased this for my fiancé for Christmas & he loves it! It is absolutely beautiful! He wore it for the rest of the day & no one is allowed to touch it lol. Fits perfect. The quality is unbelievable. Bought him a ring & necklace as well. Beautiful pieces! Overall the best. & THE PACKAGING!!! Absolutely no complaints.
Absolutely the best
Never been a guy who wears hats much, that recently change after purchasing this hat in particular the quality the way it fits and how stunning it is.
Each and every-time I wear it ppl at get Standish by it add a voemio style to it it really gives a finish look.
All I need to do now is learn to play the guitar and I can defiantly be a rock start anywhere I go.
This hat is the first with clocks and colors but I guarantee it won't be the last im already looking for my next option.
The best.!!!
popular this week
Regular price

$0.00

Sale price

$560.00

Unit price

per

Regular price

$0.00

Sale price

$175.00

Unit price

per

Regular price

Sale price

$90.00

Unit price

per

Regular price

$0.00

Sale price

$59.00

Unit price

per

Regular price

$0.00

Sale price

$90.00

Unit price

per

Regular price

$0.00

Sale price

$95.00

Unit price

per