Regular price
$315.00
Sale price
$236.25
var product = { id: 4181794488419, title: "El Infierno", available: true, handle: "el-infierno", description: "This custom chainlink is inspired by the rich visual history of the Aztecs, with a detailed skull clasp resembling those used to signify a tzompantli. Loosely translating to wall of skulls, a tzompantli is a type of wooden rack used to publicly display human skulls, most often those belonging to individuals who had been ritually sacrificed. A bone-chilling account from one Spanish explorer estimated that the largest tzompantli was a towering 30 meters tall and had as many as 136,000 skulls adorning its rungs.\nHandcrafted Sterling Silver. ", type: "Bracelets", tags: ["__tab1:product-tabs-bracelet-sizing","ALL","Bracelets","Clocks and Colours","Clocks and Colours EU","Discountable","Retail Ossington"], options_with_values: [{"name":"Size","position":1,"values":["7","7.5","8","8.5","9"]}], colors: null, featured_media: { alt: "El Infierno", src: "\/\/www.clocksandcolours.com\/cdn\/shop\/products\/Infierno-ClocksAndColours-1.jpg?v=1570715071" }, url: "\/products\/el-infierno", mf: { } }; var variants = []; var variant = { id: 30394409713763, available: true, options: ["7"], option1: "7", option2: null, option3: null, inventory_quantity: 15, price: 31500, compare_price: 0, media: { alt: null, src: null }, mf: { } }; product.currentVariant = variant; variants.push(variant); var variant = { id: 30394409746531, available: true, options: ["7.5"], option1: "7.5", option2: null, option3: null, inventory_quantity: 42, price: 31500, compare_price: 0, media: { alt: null, src: null }, mf: { } }; variants.push(variant); var variant = { id: 30394409779299, available: true, options: ["8"], option1: "8", option2: null, option3: null, inventory_quantity: 17, price: 31500, compare_price: 0, media: { alt: null, src: null }, mf: { } }; variants.push(variant); var variant = { id: 30394409812067, available: true, options: ["8.5"], option1: "8.5", option2: null, option3: null, inventory_quantity: 13, price: 31500, compare_price: 0, media: { alt: null, src: null }, mf: { } }; variants.push(variant); var variant = { id: 39646391631971, available: true, options: ["9"], option1: "9", option2: null, option3: null, inventory_quantity: 14, price: 31500, compare_price: 0, media: { alt: null, src: null }, mf: { } }; variants.push(variant); product.variants = variants;
This custom chainlink is inspired by the rich visual history of the Aztecs, with a detailed skull clasp resembling those used to signify a tzompantli. Loosely translating to wall of skulls, a tzompantli is a type of wooden rack used to publicly display human skulls, most often those belonging to individuals who had been ritually sacrificed. A bone-chilling account from one Spanish explorer estimated that the largest tzompantli was a towering 30 meters tall and had as many as 136,000 skulls adorning its rungs.
Handcrafted Sterling Silver. 
Bracelet Sizing
BRACELET SIZING GUIDE
Do you already have a bracelet that fits your wrist?
Yes - Measure Bracelet
No - Measure Wrist
Lay your bracelet out straight on a flat surface.
Use a ruler to measure the length of the bracelet (in inches). Include the length of the clasp, but do not include any portion of the clasp that is "internal," such as pins or latches that insert into the clasp (see red section on the above illustration).
Your bracelet size will match the measurement in inches (ie 7.5" equals Size 7.5).
Round up if you are in between sizes.
Wrap a piece of string around your wrist.
Ensure you have enough slack that the bracelet can move freely around your wrist.
Pinch the spot where the bracelet overlaps itself between two fingers and remove the string from your wrist.
Continue to pinch the string in this spot and lay it on a flat surface. With your other hand mark this spot on the string using a pen.
In inches, measure the end of the string to the marking you just made.
Your size is the measurement in inches (if you measured 8 inches, you should order a size 8).
If you are between sizes it is always best to size up rather than down.
View full details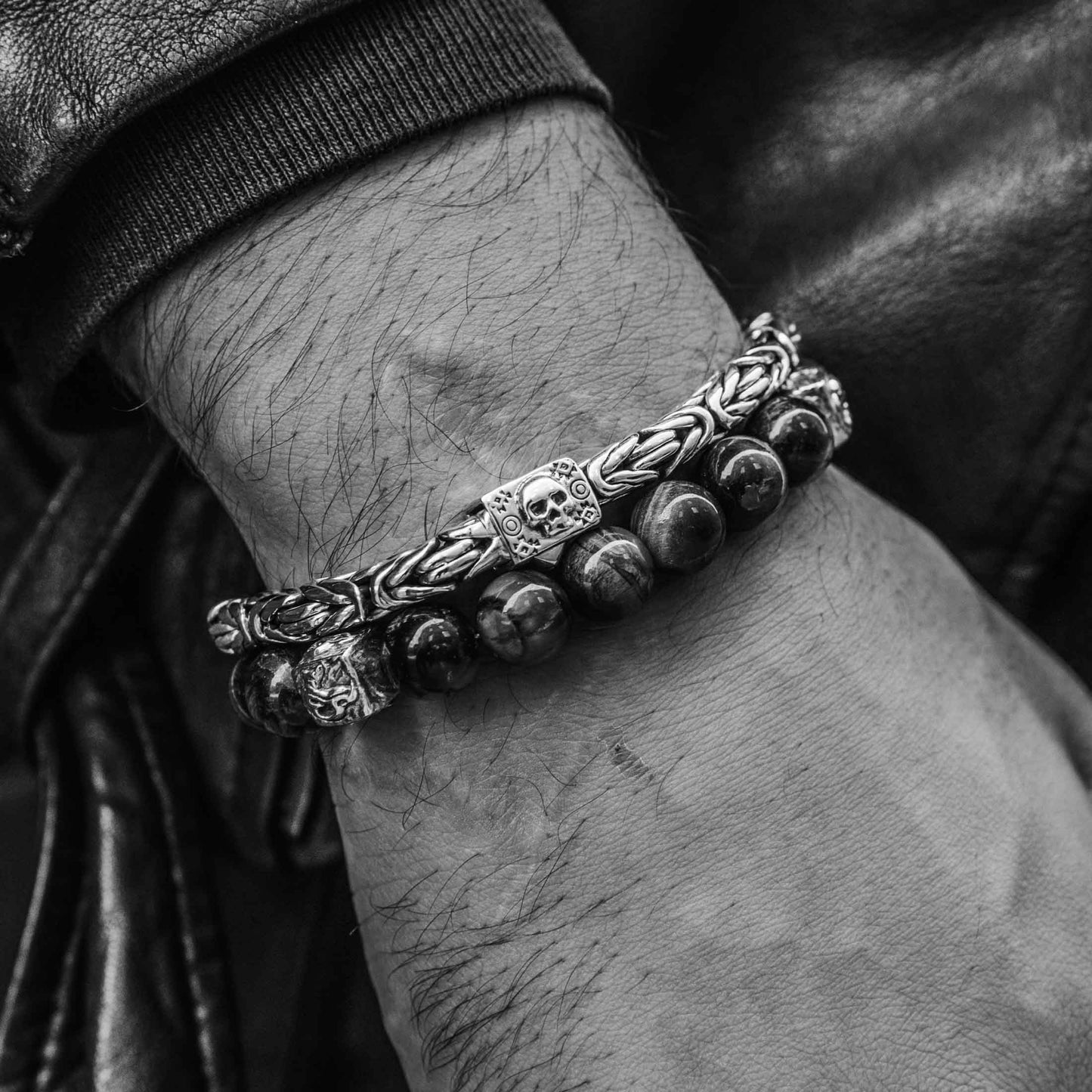 As a gift
Bought this for my friend, he absolutely loves it
Love this, but upsizing recommended
My husband adores this, and it looks fantastic on. It's substantial and weighty, and looks really high quality. My only suggestion is that the description should include a note to upsize an inch. If you wear a 8, order a 9. The weave is so tight that it's needed.
Solid all the way around!
Love this piece I just got. It's my first bracelet from C&C, and they did not disappoint. The detail is incredible, the weight and shine are perfect. Hell yea boys, nice work!
Beautiful Byzantine style bracelet
This bracelet right here, is such a beauty it felt like I looked at a trove of gold when I unpacked the contents. This bracelet goes extremely well paired with Buzzard, and Trial by Fire in between them both.
Great Piece of Art and History
I picked up this piece along with the "Aztec" chain and the two compliment each other very well. The skull design and its reference to the "rack" in Aztec society is fascinating with great meaning. Overall the piece feels solid and doesn't rattle very much if at all; very nice quality.
popular this week
Regular price

$560.00

Sale price

$420.00

Regular price

$175.00

Sale price

$131.25

Regular price

$90.00

Sale price

$67.50

Regular price

$59.00

Sale price

$44.25

Regular price

$90.00

Sale price

$67.50

Regular price

$95.00

Sale price

$71.25