Regular price
$0.00
Sale price
$250.00
Unit price
per
Sale
Sold out
var product = { id: 6898729975907, title: "Phantom x Black", available: true, handle: "phantom-x-blacksilver", description: "The Phantoms are a classic silhouette made popular in the 70's by legends like Burt Reynolds and other stylish leading men known for their portrayal of smooth-operating bandits. The sleek acetate frame has been thickened up to create a bold effect while still mirroring a classic aviator shape, and comes finished with polished stainless steel temple and arm detailing.\nGerman-engineered five-barrel hinges. 80% biodegradable acetate, 20% copper frame construction. 100% recycled stainless steel hardware and detailing. Branded hard-case included.\nPolished black acetate frame with 100% polarized grey nylon lenses.\nPrescription LensesNow available with custom polarized prescription lenses! Choose between premium 1.59 index and 1.67 high index lenses. 1.67 index lenses are thinner with greater visual clarity. Lens colour available in grey, bronze, or green.\n\n\n\nPlace your prescription eyewear purchase through the standard checkout procedure. Once ordered you will receive an order confirmation that includes a link to a survey to fill out your prescription. A customer service agent will reach out to you to ensure your custom sunglasses are built and shipped.\n\n\n\nNOTE: Prescriptions between -4.25 to -10.00 spherical (SPH) and -2.25 to -6.00 cylindrical (CYL) MUST order 1.67 high index lenses as these prescriptions are not possible with a lower index lens. \n\n Eye Width: 52.5mmBridge Width: 20.5mmTemple\/Arm Length: 140mm", type: "Sunglasses", tags: ["ALL","Clocks and Colours","Clocks and Colours EU","Discountable","Eyewear","Prescription","Retail Ossington","Shades","Sunglasses"], options_with_values: [{"name":"Lens","position":1,"values":["Standard","Prescription 1.59 Index","Prescription 1.67 Index"]}], colors: null, featured_media: { alt: "Phantom x Black", src: "\/\/www.clocksandcolours.com\/cdn\/shop\/products\/Phantom-ClocksAndColours-Black-1-1.jpg?v=1678379287" }, url: "\/products\/phantom-x-blacksilver", mf: { } }; var variants = []; var variant = { id: 40290267856995, available: true, options: ["Standard"], option1: "Standard", option2: null, option3: null, inventory_quantity: 478, price: 25000, compare_price: 0, media: { alt: null, src: null }, mf: { } }; product.currentVariant = variant; variants.push(variant); var variant = { id: 40352496975971, available: true, options: ["Prescription 1.59 Index"], option1: "Prescription 1.59 Index", option2: null, option3: null, inventory_quantity: 1, price: 35000, compare_price: 0, media: { alt: null, src: null }, mf: { } }; variants.push(variant); var variant = { id: 40352497434723, available: true, options: ["Prescription 1.67 Index"], option1: "Prescription 1.67 Index", option2: null, option3: null, inventory_quantity: 2, price: 45000, compare_price: 0, media: { alt: null, src: null }, mf: { } }; variants.push(variant); product.variants = variants;
The Phantoms are a classic silhouette made popular in the 70's by legends like Burt Reynolds and other stylish leading men known for their portrayal of smooth-operating bandits. The sleek acetate frame has been thickened up to create a bold effect while still mirroring a classic aviator shape, and comes finished with polished stainless steel temple and arm detailing.
German-engineered five-barrel hinges. 80% biodegradable acetate, 20% copper frame construction. 100% recycled stainless steel hardware and detailing. Branded hard-case included.

Polished black acetate frame with 100% polarized grey nylon lenses.
Prescription Lenses
Now available with custom polarized prescription lenses! Choose between premium 1.59 index and 1.67 high index lenses. 1.67 index lenses are thinner with greater visual clarity. Lens colour available in grey, bronze, or green.
Place your prescription eyewear purchase through the standard checkout procedure. Once ordered you will receive an order confirmation that includes a link to a survey to fill out your prescription. A customer service agent will reach out to you to ensure your custom sunglasses are built and shipped.
NOTE: Prescriptions between -4.25 to -10.00 spherical (SPH) and -2.25 to -6.00 cylindrical (CYL) MUST order 1.67 high index lenses as these prescriptions are not possible with a lower index lens.
Eye Width: 52.5mm
Bridge Width: 20.5mm
Temple/Arm Length: 140mm
View full details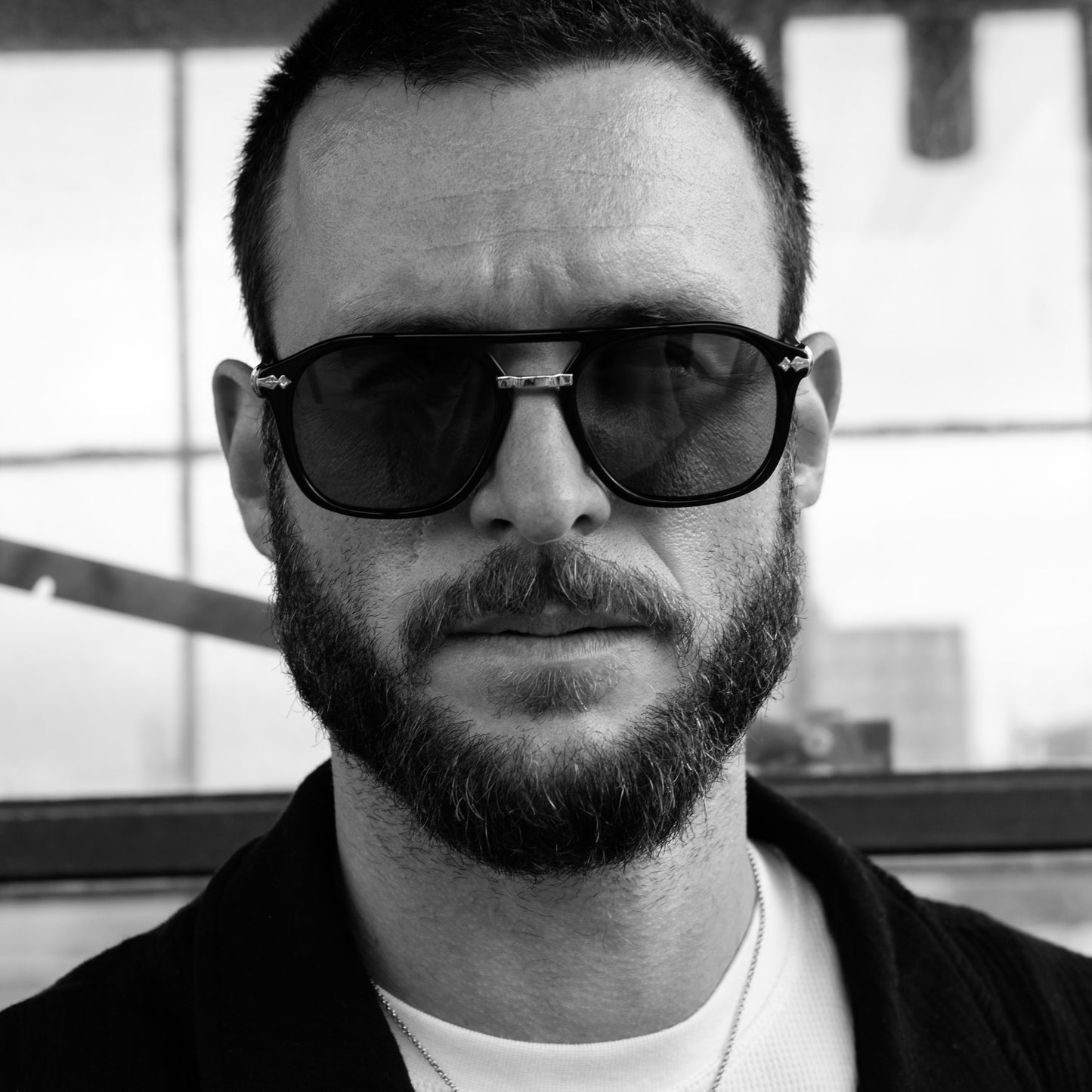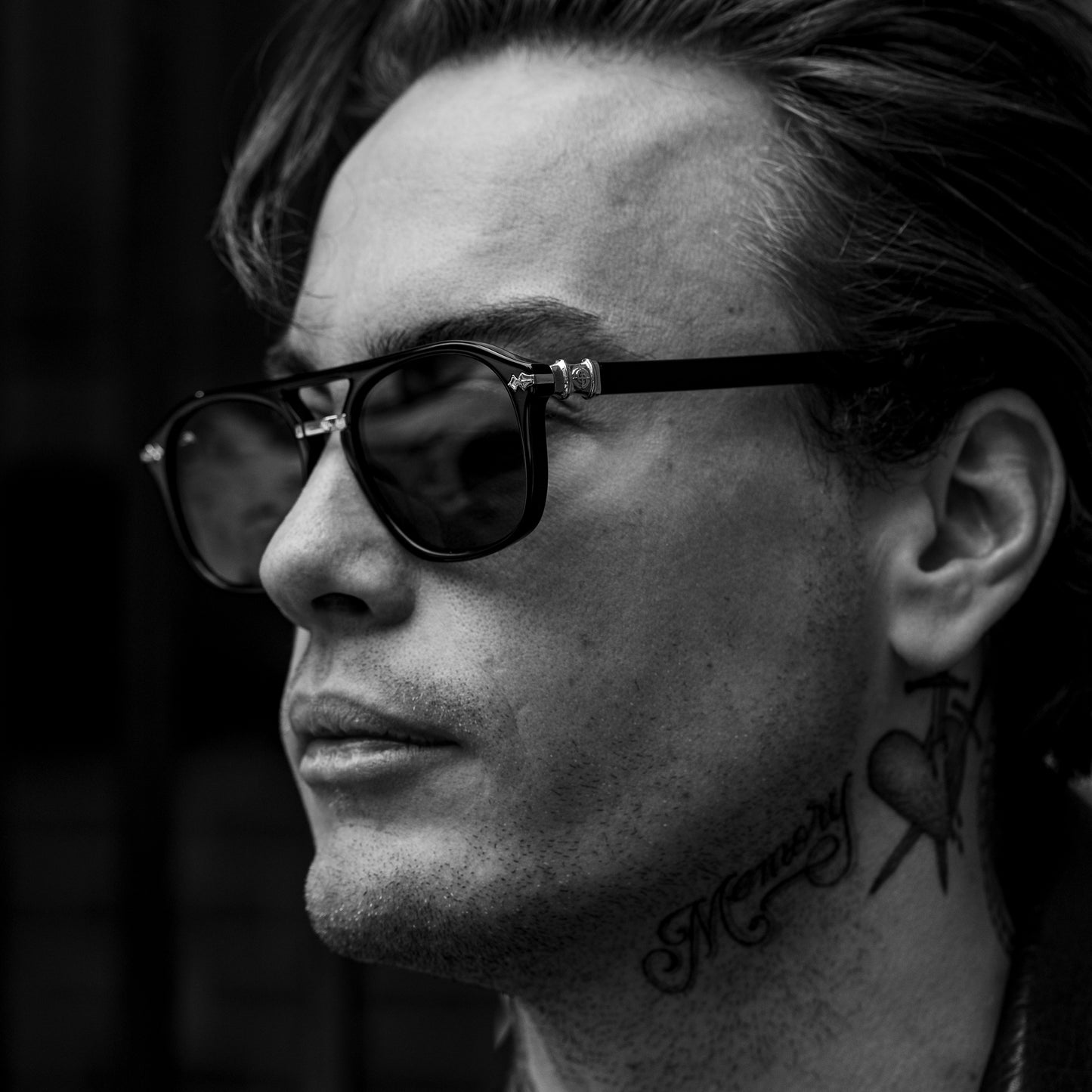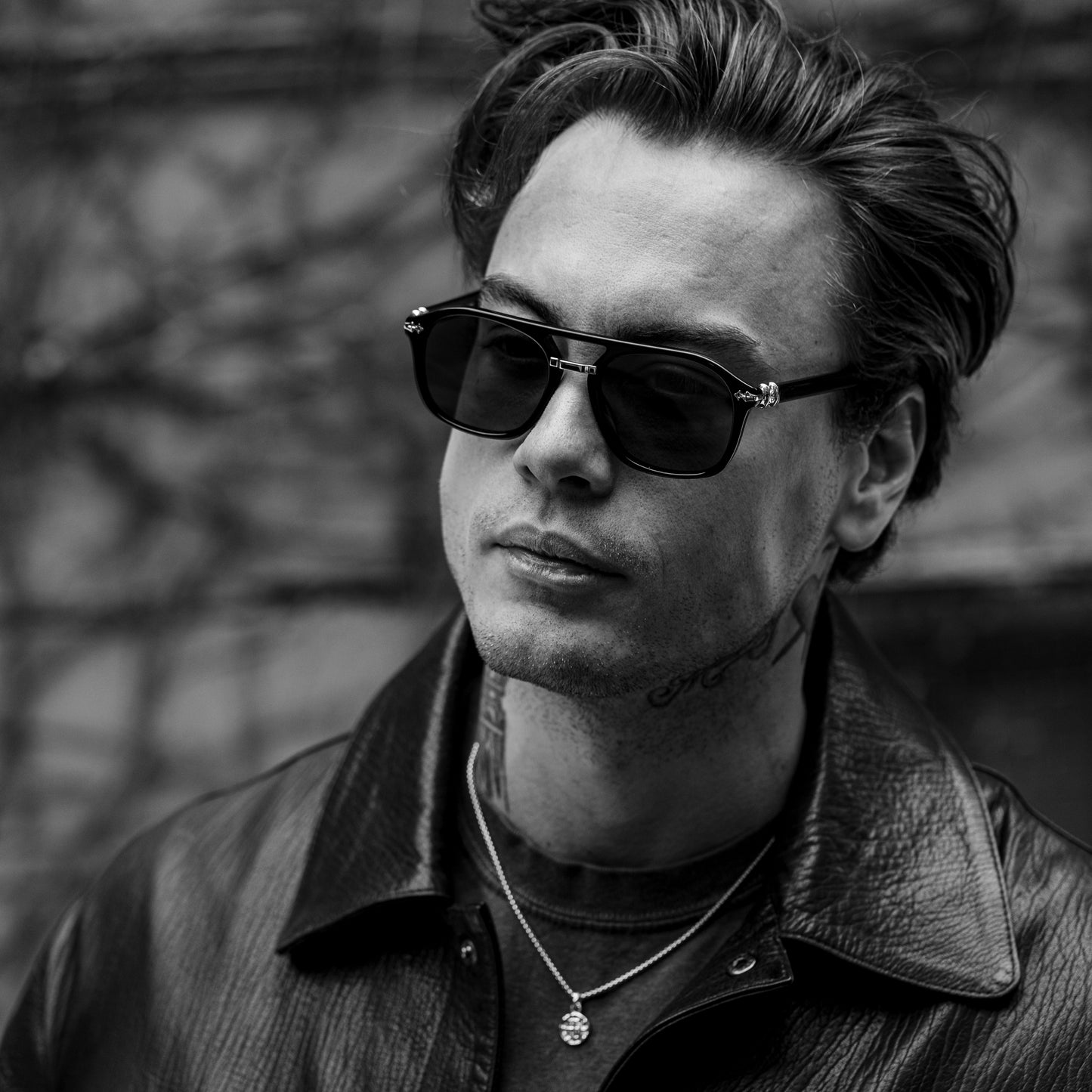 Solid
Amazing pair of shades, impeccable quality and craftsmanship
Cool style
I really love the design on these shades. The glossy black finish make the beautiful silver details stand out. They are nice size on the face I for one like a bigger size in sunglasses and these fill the face nicely. Quality is top notch as well.
popular this week
Regular price

$0.00

Sale price

$560.00

Unit price

per

Regular price

$0.00

Sale price

$175.00

Unit price

per

Regular price

Sale price

$90.00

Unit price

per

Regular price

$0.00

Sale price

$59.00

Unit price

per

Regular price

$0.00

Sale price

$90.00

Unit price

per

Regular price

$0.00

Sale price

$95.00

Unit price

per