Regular price
$50.00
Sale price
$30.00
Unit price
per
Sale
Sold out
var product = { id: 6695913128035, title: "Reverence Tee x White", available: true, handle: "reverence-tee-x-white", description: "\nThe Reverence tee features classical script lettering and a rearing griffin, the legendary combination of the world's two most powerful creatures. Images of the griffin have been used on shields and heraldic crests for centuries, a mark of courage and boldness in the face of battle. Wear with pride.\nEach screenprint is hand-pulled in Toronto, Canada.\n100% Cotton. Fits true to size.", type: "Tees", tags: ["ALL","Apparel","Clocks and Colours","Clocks and Colours EU","Clothing","Retail Ossington","Sale"], options_with_values: [{"name":"Size","position":1,"values":["S","M","L","XL","XXL"]}], colors: null, featured_media: { alt: "Reverence Tee x White", src: "\/\/www.clocksandcolours.com\/cdn\/shop\/products\/ReverenceTee-ClocksAndColours-WHT-2.jpg?v=1643650006" }, url: "\/products\/reverence-tee-x-white", mf: { } }; var variants = []; var variant = { id: 39728735223907, available: true, options: ["S"], option1: "S", option2: null, option3: null, inventory_quantity: 31, price: 3000, compare_price: 5000, media: { alt: "Reverence Tee x White", src: "\/\/www.clocksandcolours.com\/cdn\/shop\/products\/ReverenceTee-ClocksAndColours-WHT-2.jpg?v=1643650006" }, mf: { } }; product.currentVariant = variant; variants.push(variant); var variant = { id: 39728735256675, available: true, options: ["M"], option1: "M", option2: null, option3: null, inventory_quantity: 51, price: 3000, compare_price: 5000, media: { alt: "Reverence Tee x White", src: "\/\/www.clocksandcolours.com\/cdn\/shop\/products\/ReverenceTee-ClocksAndColours-WHT-2.jpg?v=1643650006" }, mf: { } }; variants.push(variant); var variant = { id: 39728735289443, available: true, options: ["L"], option1: "L", option2: null, option3: null, inventory_quantity: 93, price: 3000, compare_price: 5000, media: { alt: "Reverence Tee x White", src: "\/\/www.clocksandcolours.com\/cdn\/shop\/products\/ReverenceTee-ClocksAndColours-WHT-2.jpg?v=1643650006" }, mf: { } }; variants.push(variant); var variant = { id: 39728735322211, available: true, options: ["XL"], option1: "XL", option2: null, option3: null, inventory_quantity: 10, price: 3000, compare_price: 5000, media: { alt: "Reverence Tee x White", src: "\/\/www.clocksandcolours.com\/cdn\/shop\/products\/ReverenceTee-ClocksAndColours-WHT-2.jpg?v=1643650006" }, mf: { } }; variants.push(variant); var variant = { id: 39728735354979, available: true, options: ["XXL"], option1: "XXL", option2: null, option3: null, inventory_quantity: 14, price: 3000, compare_price: 5000, media: { alt: "Reverence Tee x White", src: "\/\/www.clocksandcolours.com\/cdn\/shop\/products\/ReverenceTee-ClocksAndColours-WHT-2.jpg?v=1643650006" }, mf: { } }; variants.push(variant); product.variants = variants;
The Reverence tee features classical script lettering and a rearing griffin, the legendary combination of the world's two most powerful creatures. Images of the griffin have been used on shields and heraldic crests for centuries, a mark of courage and boldness in the face of battle. Wear with pride.
Each screenprint is hand-pulled in Toronto, Canada.

100% Cotton. Fits true to size.
All of our apparel products are covered by a Two Year Warranty
Clearance items are final sale - No exchanges or refunds.
View full details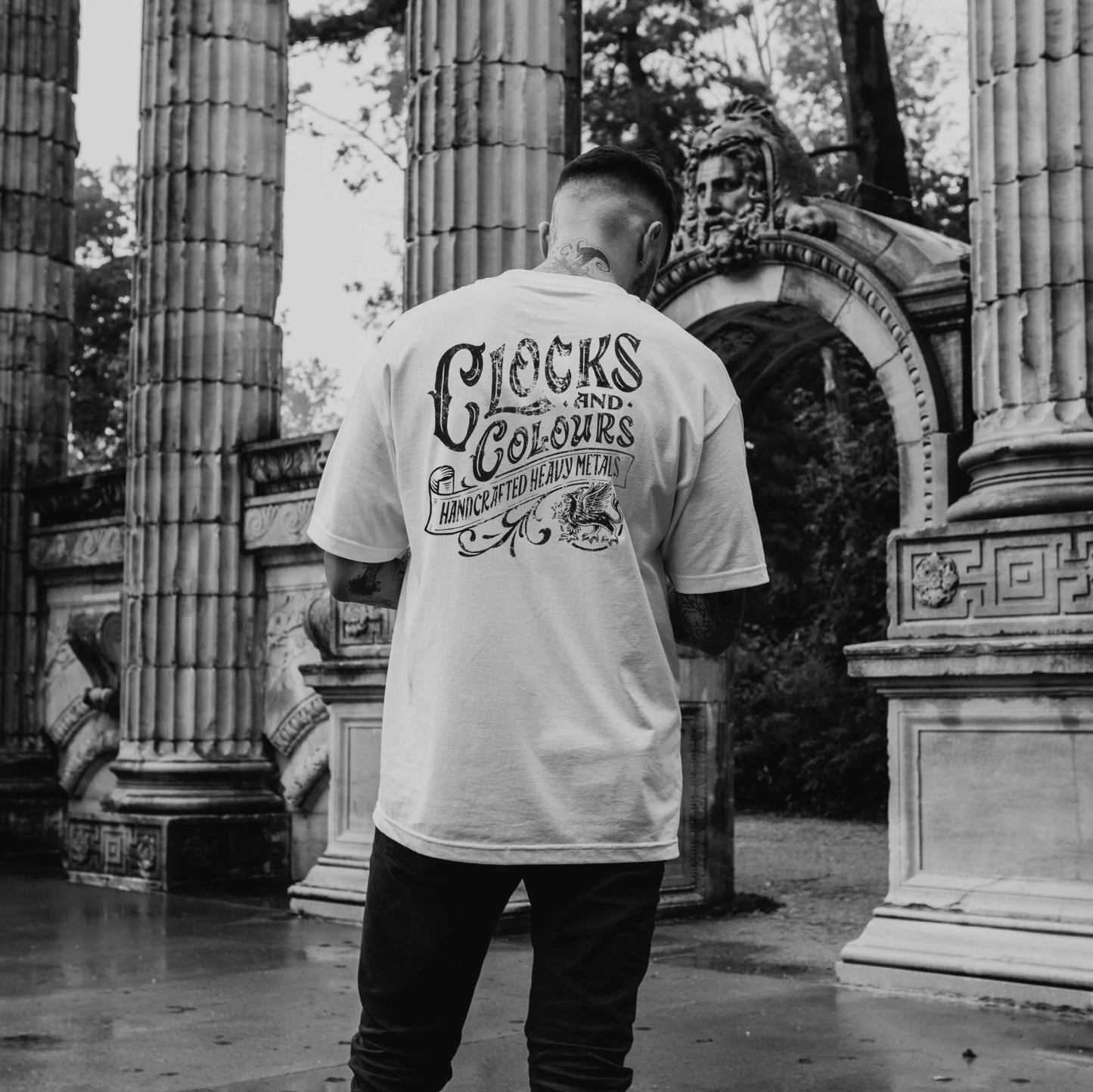 Classic White Tee 🤩
Something bout this shirt when its tucked in, with the Rodeo belt from C+C, Some nice jeans and Chuck Taylors get this shirt poppennnn 🤩
Great quality, true to size
Great T, true to size, good fit and good thickness to it without being heavy.
Classic
this tshirt is one of my staple go-now. love the fit and quality of the tshirt!
The best shirts!
I love all of the C&C shirts and wear one everday. The best quality and fitting, you can't go wrong here!
popular this week
Regular price

$0.00

Sale price

$560.00

Unit price

per

Regular price

$0.00

Sale price

$175.00

Unit price

per

Regular price

Sale price

$90.00

Unit price

per

Regular price

$0.00

Sale price

$59.00

Unit price

per

Regular price

$0.00

Sale price

$90.00

Unit price

per

Regular price

$0.00

Sale price

$95.00

Unit price

per