Regular price
$625.00
Sale price
$328.13
var product = { id: 6839487627363, title: "Stomping Ground x Alessandro Vasini (Black Suede)", available: true, handle: "stomping-ground-x-alessandro-vasini-black-suede", description: "Each pair of our limited-edition Alessandro Vasini x Clocks + Colours "Stomping Ground" boots are handmade in Italy from genuine calf suede or leather. Finished with a custom four-point star stud detail and Vibram soles, these boots are designed to last a lifetime — no matter what sort of trouble you kick up along the way.", type: "Boots", tags: ["ALL","Apparel","Clocks and Colours","Retail Ossington","Sale"], options_with_values: [{"name":"Size","position":1,"values":["8","7","8.5","7.5","9","9.5","10","10.5","11","11.5","12","12.5"]}], colors: null, featured_media: { alt: "Stomping Ground x Alessandro Vasini (Black Suede)", src: "\/\/www.clocksandcolours.com\/cdn\/shop\/products\/StompingGround-ClocksAndColours-Black-1.jpg?v=1667836440" }, url: "\/products\/stomping-ground-x-alessandro-vasini-black-suede", mf: { } }; var variants = []; var variant = { id: 40072563425379, available: false, options: ["8"], option1: "8", option2: null, option3: null, inventory_quantity: 0, price: 43750, compare_price: 62500, media: { alt: "Stomping Ground x Alessandro Vasini (Black Suede)", src: "\/\/www.clocksandcolours.com\/cdn\/shop\/products\/StompingGround-ClocksAndColours-Black-1.jpg?v=1667836440" }, mf: { } }; variants.push(variant); var variant = { id: 40072563458147, available: true, options: ["7"], option1: "7", option2: null, option3: null, inventory_quantity: 1, price: 43750, compare_price: 62500, media: { alt: "Stomping Ground x Alessandro Vasini (Black Suede)", src: "\/\/www.clocksandcolours.com\/cdn\/shop\/products\/StompingGround-ClocksAndColours-Black-1.jpg?v=1667836440" }, mf: { } }; product.currentVariant = variant; variants.push(variant); var variant = { id: 40072563490915, available: false, options: ["8.5"], option1: "8.5", option2: null, option3: null, inventory_quantity: 0, price: 43750, compare_price: 62500, media: { alt: "Stomping Ground x Alessandro Vasini (Black Suede)", src: "\/\/www.clocksandcolours.com\/cdn\/shop\/products\/StompingGround-ClocksAndColours-Black-1.jpg?v=1667836440" }, mf: { } }; variants.push(variant); var variant = { id: 40072563523683, available: true, options: ["7.5"], option1: "7.5", option2: null, option3: null, inventory_quantity: 2, price: 43750, compare_price: 62500, media: { alt: "Stomping Ground x Alessandro Vasini (Black Suede)", src: "\/\/www.clocksandcolours.com\/cdn\/shop\/products\/StompingGround-ClocksAndColours-Black-1.jpg?v=1667836440" }, mf: { } }; variants.push(variant); var variant = { id: 40072563556451, available: false, options: ["9"], option1: "9", option2: null, option3: null, inventory_quantity: 0, price: 43750, compare_price: 62500, media: { alt: "Stomping Ground x Alessandro Vasini (Black Suede)", src: "\/\/www.clocksandcolours.com\/cdn\/shop\/products\/StompingGround-ClocksAndColours-Black-1.jpg?v=1667836440" }, mf: { } }; variants.push(variant); var variant = { id: 40072563589219, available: true, options: ["9.5"], option1: "9.5", option2: null, option3: null, inventory_quantity: 2, price: 43750, compare_price: 62500, media: { alt: "Stomping Ground x Alessandro Vasini (Black Suede)", src: "\/\/www.clocksandcolours.com\/cdn\/shop\/products\/StompingGround-ClocksAndColours-Black-1.jpg?v=1667836440" }, mf: { } }; variants.push(variant); var variant = { id: 40072563621987, available: true, options: ["10"], option1: "10", option2: null, option3: null, inventory_quantity: 6, price: 43750, compare_price: 62500, media: { alt: "Stomping Ground x Alessandro Vasini (Black Suede)", src: "\/\/www.clocksandcolours.com\/cdn\/shop\/products\/StompingGround-ClocksAndColours-Black-1.jpg?v=1667836440" }, mf: { } }; variants.push(variant); var variant = { id: 40072563654755, available: true, options: ["10.5"], option1: "10.5", option2: null, option3: null, inventory_quantity: 3, price: 43750, compare_price: 62500, media: { alt: "Stomping Ground x Alessandro Vasini (Black Suede)", src: "\/\/www.clocksandcolours.com\/cdn\/shop\/products\/StompingGround-ClocksAndColours-Black-1.jpg?v=1667836440" }, mf: { } }; variants.push(variant); var variant = { id: 40072563687523, available: true, options: ["11"], option1: "11", option2: null, option3: null, inventory_quantity: 2, price: 43750, compare_price: 62500, media: { alt: "Stomping Ground x Alessandro Vasini (Black Suede)", src: "\/\/www.clocksandcolours.com\/cdn\/shop\/products\/StompingGround-ClocksAndColours-Black-1.jpg?v=1667836440" }, mf: { } }; variants.push(variant); var variant = { id: 40072563720291, available: true, options: ["11.5"], option1: "11.5", option2: null, option3: null, inventory_quantity: 5, price: 43750, compare_price: 62500, media: { alt: "Stomping Ground x Alessandro Vasini (Black Suede)", src: "\/\/www.clocksandcolours.com\/cdn\/shop\/products\/StompingGround-ClocksAndColours-Black-1.jpg?v=1667836440" }, mf: { } }; variants.push(variant); var variant = { id: 40072563753059, available: true, options: ["12"], option1: "12", option2: null, option3: null, inventory_quantity: 5, price: 43750, compare_price: 62500, media: { alt: "Stomping Ground x Alessandro Vasini (Black Suede)", src: "\/\/www.clocksandcolours.com\/cdn\/shop\/products\/StompingGround-ClocksAndColours-Black-1.jpg?v=1667836440" }, mf: { } }; variants.push(variant); var variant = { id: 40072563785827, available: false, options: ["12.5"], option1: "12.5", option2: null, option3: null, inventory_quantity: 0, price: 43750, compare_price: 62500, media: { alt: "Stomping Ground x Alessandro Vasini (Black Suede)", src: "\/\/www.clocksandcolours.com\/cdn\/shop\/products\/StompingGround-ClocksAndColours-Black-1.jpg?v=1667836440" }, mf: { } }; variants.push(variant); product.variants = variants;
Each pair of our limited-edition 
Alessandro Vasini
 x Clocks + Colours "Stomping Ground" boots are handmade in Italy from genuine calf suede or leather. Finished with a custom four-point star stud detail and Vibram soles, these boots are designed to last a lifetime — no matter what sort of trouble you kick up along the way.
All of our apparel products are covered by a Two Year Warranty
Clearance items are final sale - No exchanges or refunds.
View full details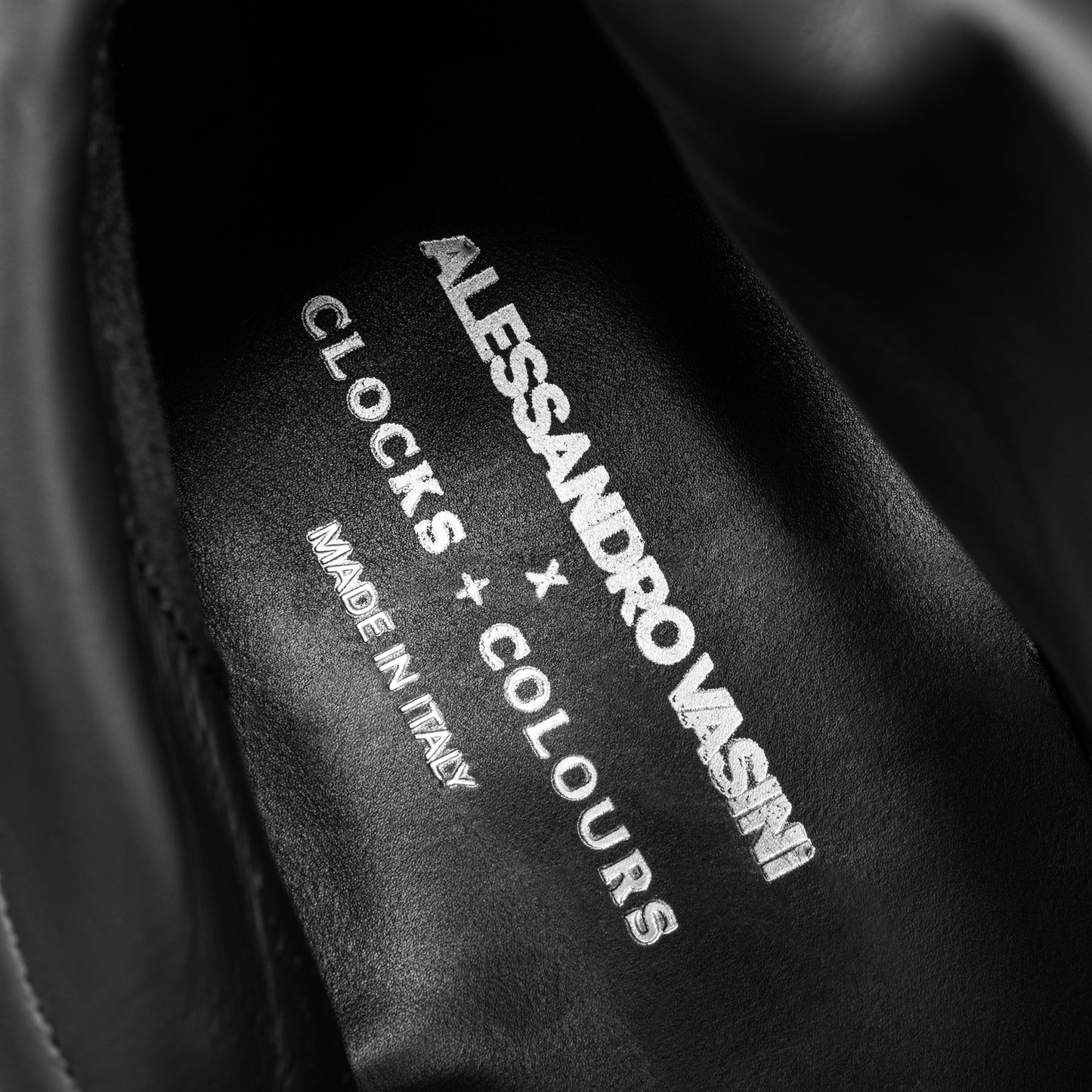 Sleeker than I thought
I wasn't exactly sure if these would be big clunky boots but I was pleasantly surprised when I got them and they were kind of sleeker than I expected. I wore these out the first day I got them and was complemented right away.
I got black suede and red both pairs absolutely gorgeous love them
Stomping ground
Very cool boots. Quick delivery despite the distance
Absolutely worth it!
This pair of boots has been the perfect complement to my vintage rocker styled wardrobe. They look exactly like the picture and quality is amazing. I ordered a 10 1/2 and they fit almost perfectly the only thing you may require an insert to support your foot's arch better so a half size bigger might be a good idea.
The boots are badass
Okay, I've already worn them on a cattle ranch in the middle of Mexico with the rake hat. It was badass. Nuff said.
popular this week
Regular price

$560.00

Sale price

$420.00

Regular price

$175.00

Sale price

$131.25

Regular price

$90.00

Sale price

$67.50

Regular price

$59.00

Sale price

$44.25

Regular price

$90.00

Sale price

$67.50

Regular price

$95.00

Sale price

$71.25